Capitals, Yet Again, The NHL Benchmark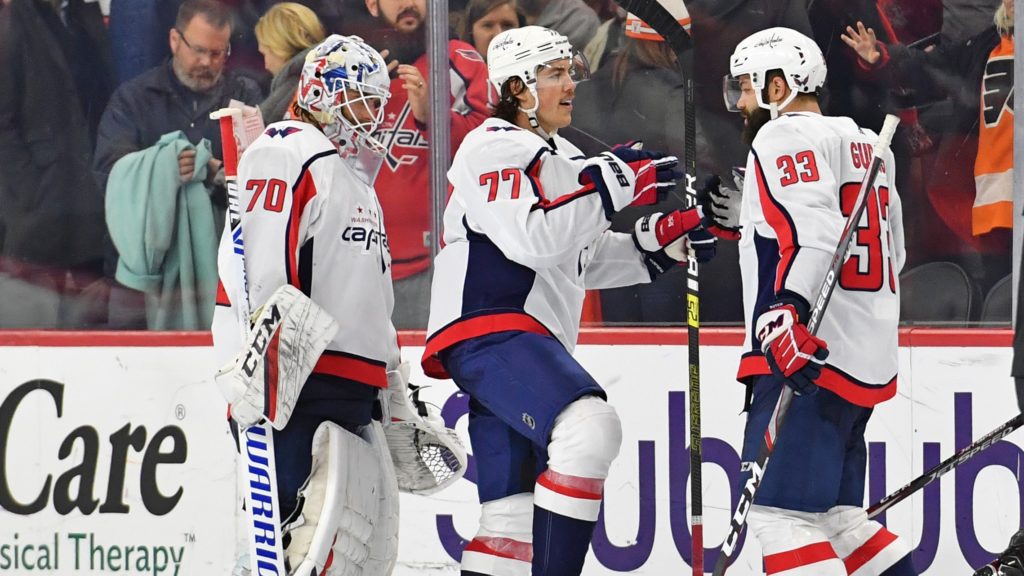 Through 20 games of the 2019/20 NHL season, the one team making a dominant statement more than any other has been the Washington Capitals.
Seemingly still stung by their early exit to the Carolina Hurricanes jerks in last season's Stanley Cup playoffs, the Caps appear unwavering in their quest to reclaim their title as the world's best hockey team.
Sitting atop of the NHL's standings, having won 14 of 20 games and secured a point in four others, the Capitals' 32 standings points has them well ahead of their early pace in recent Metropolitan Division winnings seasons – including the one which ultimately led to drought-breaking Stanley Cup success.
#ALLCAPS through 20 games… pic.twitter.com/pR1wAX35M9

— DC (@DanClarkSports) November 14, 2019
The Caps have been so hot in fact, that they've recorded standings points in each of their last 13 games – something only achieved six times in franchise history. They're just two games off matching their all-time record, achieved during a 15-game stretch back in 2009-10.
The @Capitals have collected a point in every game since Oct. 14 (13 GP).

This marks the sixth time in franchise history the club has posted a point streak of 13 or more games. #NHLStats pic.twitter.com/c5vAuSzIeH

— NHL Public Relations (@PR_NHL) November 14, 2019
Individually, John Carlson continues to amaze, having already tallied an incredible 30 points (8 goals). To put that mark into context, the defender is on pace for 123 points this season. Very few defenders in the NHL can match his ability to provide such reliability down back, yet also a creativity and skilfulness in attack that allows a star-studded and damaging offense to flourish. For too long, Carlson has gone largely unnoticed by the national media, despite those within DC calling for greater praise. Now, finally, the rest of the world is starting to become aware.
That damaging offense he works so well with, including the household names of Alex Ovechkin, TJ Oshie, Nicklas Backstrom, and Evgeny Kuznetsov continues to deliver the goods. Averaging 3.90 goals per game, these usual suspects are scoring at a rate noticeably higher than seasons prior.
CAPITALS: GOALS PER GAME
2019/20 – 3.90
2018/19 – 3.34
2017/18 – 3.12
2016/17 – 3.18
2015/16 – 3.02
Joining this quartet is Jakub Vrana who is finally delivering on the potential he's shown since being drafted 13th overall in 2014. The left wing was the NHL's hottest player earlier this month, scoring five times in two games against the Buffalo Sabres and Calgary Flames – the latter of which resulted in a first career hattrick.
CAPITALS: LEADING GOAL SCORERS
13 – Alex Ovechkin
9 – TJ Oshie
9 – Jakub Vrana
8 – Evgeny Kuznetsov
8 – John Carlson
8 – Tom Wilson
At the other end of the ice, while Braden Holtby's form has been a little more inconsistent from the brilliant goaltender we've all come to admire in recent years, his 30-save performance last night in a hard-fought 2-1 shootout win over the Philadelphia Flyers was absolutely stunning. It was vintage Hotbly on display, something which is sure to bring a smiles to the faces of all Caps fans. He was undoubtedly the best player on the ice, denying multiple point-blank attempts and producing some stunning reaching leg saves. Speaking on the win, Holtby noted, "It was a fun one to be a part of. You know, we got big shootout goals and a big shift in overtime that took a lot of guts to get through. Just a fun hockey game."
Speaking on the team's early season success, in particular from an offensive standpoint, Head Coach Todd Reirden last night said, "The talk on our bench is, Who's going to get the next goal? Let's see who's going to do it. No one slams doors. No one breaks sticks. We believe in our system." Those sentiments certainly seem accurate, with the team rarely flustered, even when forced to come from behind. This sense of calm and self-belief, that simply following Reirden's process will ultimately pay dividends, is a sign of maturity matched by very few in the League. If that can remain throughout, then it seems highly unlikely their prolonged Metropolitan Division reign will end anytime soon.
The Caps will look to continue the momentum against the Montreal Canadiens on Friday night.