Does a World Series Pitching Duel for the Ages Await?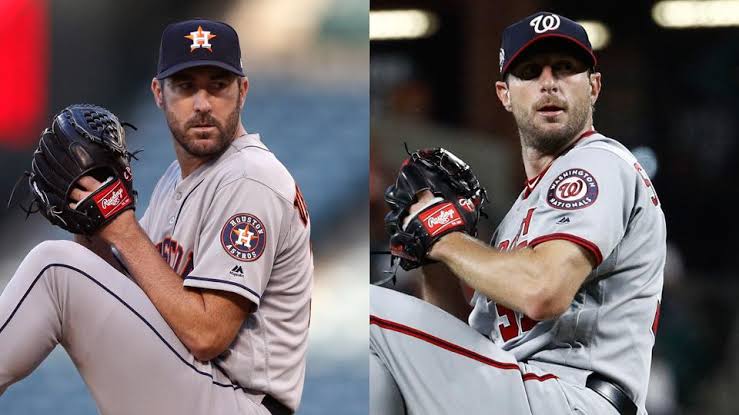 While the make-up of the 2019 World Series is still to be determined, with the Washington Nationals' opponent yet to be decided, should the Houston Astros convert their current ALCS 2-1 lead over the New York Yankees, baseball fans may well be set for one of the best World Series pitching duels seen in decades.
If the Nationals and Astros do ultimately face off for baseball's biggest prize, the starting pitching matchups are going to be as tight as the come, pairing the hottest team in baseball against one that's maintained excellence all season.   
Don't be surprised at how, when current game odds for the World Series become available, they skew towards the team that's been trending the sharpest.  Right now, that would be Washington.
After starting the 2019 season 19-31, the Nationals have been baseball's hottest team since May, winning 81 of 131 games thereafter and winning 8 of 10 games in the postseason since. The key to this success has been the starters on the pitching staff who have well and truly lived up to their lofty preseason expectations.
Max Scherzer

continues to defy the ageing process, bringing in his dominant regular season form into the postseason. Through four outings, Scherzer owns a 2-0 record with a 1.80, striking out 27 in 20 innings of work. His one-hitter through seven shutout innings in Game 2 against the St. Louis Cardinals was vintage viewing. 
Anibal Sanchez

may have had a somewhat inconsistent regular season, however has regained the form of his heyday in Detroit this October with two dominant starts against the Los Angeles Dodgers (5.0 IP, 1 ER, 9 K) and St. Lois Cardinals (7.2 IP, 0 ER, 5 K).
Stephen Strasburg

has been one of the key discussion points of the postseason to date. Through four outings, he owns a 3-0 record and a 1.64 ERA. He's struck out 33 in just 22 innings, adding to the 251 strikeouts he notched during the regular season.
Combined, the trio will give Manager Dave Martinez and Pitching Coach Paul Menhart plenty or confidence across a best-of-seven game series.
The Astros, meanwhile, have been baseball's benchmark all season and after narrowly scraping through the ALDS against the Tampa Bay Rays, have started to stamp their mark on the ALCS against the Yankees thanks to a feared starting rotation.
Gerrit Cole

has been the postseason's best pitcher, winning all three starts and allowing just one earned run through 22 2/3 innings. His outings have lasted 7 2/3, 8 and 7 innings respectively, and his potent combo of a high 90s fourseamer and slider, mixed in with a lethal curve and changeup has seen 32 batters strikeout, bringing his 2019 tally to 358.
Justin Verlander

is another veteran arm who defies the ageing process, potentially winning the American League Cy Young Award. After a tremendous season (21-6, 2.58 ERA), the 36-year-old has been solid through three postseason outings thus far, working to a 3.12 ERA through 17 1/3 innings. His next start may well be his most crucial of the year. 
Zack Greinke

may not be as dominant as the Astros' potent 1-2 punch above, however is a proven performer and would have a point to prove in the World Series following a poor postseason campaign thus far (0-2, 8.38 ERA). Greinke's regular season was phenomenal (18-5, 2.93 ERA) and if he can return to that form, then he'll be hard to beat.
While the Nationals' rotation may be slightly ahead on performance this postseason, on paper the two are as evenly matched as possible. With age, experience, and proven track records on their side, the 2019 World Series looks set to be full of dazzling pitching performances. This of course begs the question – which offense can overcome this challenge and lead their team to glory?