Positives Galore for Baseball's 'Worst' Team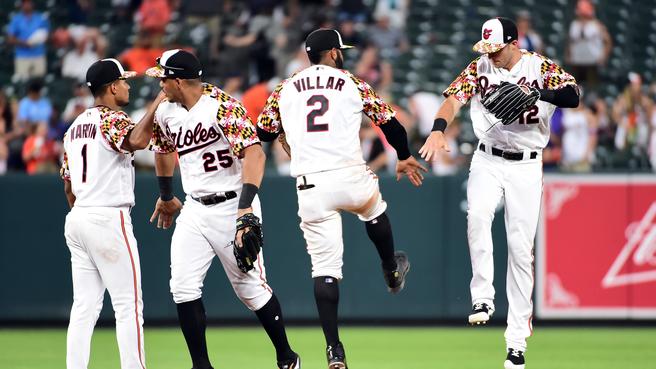 On face value, a 108-loss season doesn't exactly bring with it a long list of positives, however for the transitioning and rebuilding Baltimore Orioles organization, there was a lot to like in 2019.
Commencing the first year of an organizational-wide top-to-bottom rebuild that will last at least three or four seasons, the Orioles' win-loss record was largely irrelevant, with the focus instead being on individual performances and the development of the organization's next batch of stars in the minor leagues.
There was a lot to like, too…
Rapid Rise Up MLB's Farm Systems
While each website you read will rank MLB's 30 farms on slightly different methodologies, the baseball world was unanimous in February that the Orioles' farm was one of the worst in baseball – ranking 25th. Fast forward eight months though, and on the back of some sizzling seasons in the minor leagues and the addition of 2019 No.1 overall pick Adley Rutschman, the Orioles have shot up inside the Top 10, with some websites having them at 8th. There's no doubt the Orioles have done extremely well with their first three picks of the last three years – 2017 (DL Hall), 2018 (Grayson Rodriguez) and 2019 (Adley Rutschman). Add to that the increasingly promising Ryan Mountcastle and the naturally gifted Yusniel Diaz, as well as a whole heap of solid young arms, and suddenly the future looks quite bright.
Signing No. 1 Draft Pick Adley Rutschman
The Orioles' signing of 21-year-old Rutschman in June was a tremendous boost for the organization, with the phenomenal young catcher entering the world of professional baseball with a whole list of accomplishments under his belt – College World Series Champion and MVP (2018), Pac-12 Player of the Year (2019), Golden Spikes Award (2019), Dick Howser Award (2019) and many more. Making his professional debut shortly after, he would finish the season playing 37 games, hitting .254/.351/.774 across three minor league levels. Watch for his fast-tracking through the system to continue in 2020.
Trey Mancini's Breakout Season
Mancini had a wonderful rookie season in 2017, however regressed notably last year in what was an unexpected disappointment for many. Needing to step up into a leadership role in an experienced team in 2019, Mancini flourished. He was undoubtedly the Orioles' best and most consistent hitter, and was the deserving winner of the team's MVP Award, hitting .291/.335/.819 with 35 home runs and 97 RBI. With underperforming slugger Chris Davis' woes continuing, Mancini has forged ahead as the team's first choice first base option.
Ryan Mountcastle's Enormous Triple-A Season
While many fans expected to see the 22-year-old infielder make his major league debut in 2019, the reality is he benefited more by playing a full season with Triple-A Norfolk – and boy did he dominate. Through 127 games, he slashed .312/.344/.871 with 25 home runs and 83 RBI. His wonderful season saw him take home a swag of honors, among which included the International League's MVP Award and being named the Orioles' best minor league player of the year.
Pitching Success In The Minor Leagues
There was a lot to like on the pitching front in the minor leagues in 2019, with the following young arms compiling fantastic seasons:
Zac Lowther (AA), 13-7, 2.55 ERA, 148.0 IP
Alex Wells (AA), 8-6, 2.95 ERA, 137.1 IP
Michael Baumann (A+ and AA), 7-6, 2.98 ERA, 124.0 IP
Bruce Zimmermann (AA and AAA), 7-6, 3.21 ERA, 140.0 IP
Dean Kremer (A+, AA and AAA), 9-6, 3.72 ERA, 113.2 IP
Cody Sedlock (A+ and AA), 5-3, 2.84 ERA, 95 IP
Drew Rom (A), 6-3, 2.93 ERA, 95.1 IP
Gray Fenter (A), 8-2, 1.81 ERA, 94.1 IP
Grayson Rodriguez (A), 10-4, 2.68 ERA, 94 IP
Ryan Wilson (A), 6-5, 2.80 ERA, 93.1 IP
Jonathan Villar's Consistency… And Trade Value
Since arriving in Baltimore midway through 2018, Villar has been a remarkably consistent performer and in 2019 he was only one of five players in the major leagues to play all 162 games. The former Astro and Brewer produced career highs in almost all offensive categories, hitting .274/.339/.792 in 642 at bats. He showed power (24 home runs and 62 extra-base hits) and speed (40 stolen bases), and was more than reliable defensively at second base. As the Orioles continue to look for young talent for the future, with Villar's trade value increasing on the back of a strong season, they are certain to shop him this winter in hope of securing some more prospects.
John Means' Fantastic Rookie Season
Behind Mancini's MVP calibre season, Means was undoubtedly the Orioles' star attraction. The 26-year-old rookie compiled a full season, working to an impressive 3.60 ERA through 155 innings of work. Leading a pitching staff which was once again one of the worst in all of baseball, Means' consistency, which yielded 12 wins, helped snap prolonged losing streaks and reignite motivation among a team often finding itself battling to stay afloat. His impressive returns, in particular during the first half of the season, saw him deservingly rewarded with American League All-Star honors.
Unexpected Offensive Finds
In addition to the impressive offensive returns from Mancini and Villar, a trio of young Orioles also established themselves at the major league level in 2019 and provided hope for the years ahead. Anthony Santander finally showed glimpses of his potential, slugging a respectable .261/.297/.773 with 20 home runs in 93 games, while Renato Nunez (31 home runs and 90 RBI) and Hanser Alberto .305/.329/.751 proved themselves to be major league quality pieces in an inexperienced lineup. Aged just 24, 25 and 26 respectively, expect all three to feature prominently in future.