Six Positives from the Orioles' 2019 Season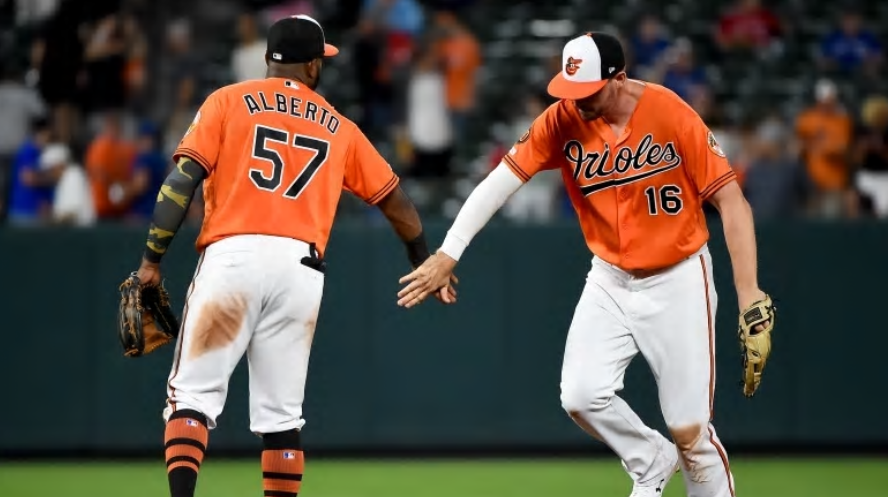 Believe it or not, there are now just two weeks remaining in the 2019 MLB season – a season which most Orioles fans expected to be a long and painful journey, and one which would bring with it another 100+ losses.
While the 100+ losses has occurred, the long duration certainly has not, with the season flying by relatively quickly. It's hard to think it's been seven months since the team started its Spring Training campaign in Sarasota, full of fresh new faces both on the field and within the dugout. The other widely anticipated outcome, that being a painful journey, has only partially come to fruition too. Without doubt, there have been some horribly painful losses along the way, with blown leads and blowout losses a plenty, however counteracting that has been a whole series of reasons to smile.
Speaking on Baltimore's WNST 1570 AM back in March, I predicted the team would notch between 48-51 wins this season, and with 14 games to play they're sitting on 48. They'll probably exceed that prediction – only just, but exceed nonetheless. This is due to some seriously encouraging finds offensively which have had to overcome a truly horrendous, and historically poor pitching staff.
Trey Mancini
While not being a 'find' as such, having frequently shown his capabilities in the past since debuting late in 2016, Mancini has been – by far – the most impressive bat in the Orioles lineup. Setting new career-highs in home runs (32), RBI (83), and OPS (.869), he has boosted his status in a stacked American League East division and his value has jumped considerably. Still just 27 years old, the Orioles will look to keep the talented and humble performer around for its next playoff push, which is likely to be three or four years away (all things going to plan). Importantly, in recent times he's been shifted from the outfield to first base, his natural and preferred position defensively. With Chris Davis' continued failings and position on the team in serious doubt going forward, Mancini should expect a full season there in 2020 – something he will no doubt appreciate.
Anthony Santander
Since making his debut just over two years ago, Santander has struggled to build upon the flashes of brilliance he has shown he is capable of. Dominant in the minor leagues throughout 2015-2017, his initial call-up filled many with excitement in Baltimore however he seemed to lack self-belief and inconsistency plagued him thereafter. Starting the season with Triple-A Norfolk, Santander was called-up for one game against the White Sox in May and during which he hit his second career home run, however the roster squeeze saw him optioned the very next day and the 24-year-old was forced to further his development for five weeks until early June. Since being recalled on June 7, he's seized his opportunity and shown exactly what many within the organization thought was possible. His athleticism and natural power have frequently been on full display as he's surged towards 18 home runs, 19 doubles, and 51 RBI. His .796 OPS is second on the team and his 86 games will near an even 100 by season's end – a number all within in Baltimore will be incredibly pleased with.
Jonathan Villar
Since arriving in Baltimore last July in a trade with the Milwaukee Brewers for fan favorite Jonathan Schoop, Villar has established himself as one of the team's clubhouse leaders and first picked players every time rookie manager Brandon Hyde fills out his lineup card. The 54 games last season gave Orioles fans a taste of what he was capable of, however his 2019 season has been even better – and far better than what Schoop has achieved with the Brewers and (now) Minnesota Twins since the trade occurred. Villar's 2019 slash line of .276/.342/.795, along with 21 home runs, 65 RBI, and 34 stolen bases, have provided such a valuable spark to this team, and his defensive flexibility and consistency at either second base or shortstop have at the very least rivalled that of Schoop. He is the only player on the team to have appeared in all 148 games this season and his 3.8 bWAR is second on the team behind only John Means (4.3 bWAR).
Hanser Alberto
Like many other mid-20 something year old players on Baltimore's roster, Alberto has spent most of his time bouncing around in the minor leagues in recent years and struggled to find consistent playing time under baseball's brightest lights. Entering the 2019 season with just 89 career games under his belt since making his debut with the Texas Rangers four years ago, Alberto has broken out, and up until recently even challenged for the American League batting title. Through 127 games, Alberto has hit .316 (150-for-475) with 11 home runs, 21 doubles, and two triples. His .775 OPS is 16 points higher than the MLB average, and his dominance against left handed pitching has produced some of the best numbers seen in MLB history – hitting .412/.429/.987. Importantly, Alberto offers Brandon Hyde flexibility both in the lineup, having hit in every position except third and fourth, and defensively, having played second base, third base, and each corner outfield spot. A manager's dream, Alberto has also become a fan favorite.
Renato Nunez
Like Villar, Nunez was acquired during the 2018 season when he was claimed off waivers from the Texas Rangers in mid-May. After starting his Birdland tenure in the minor leagues, he would ultimately play 60 games for the Orioles in the second half of the season, impressing enough to earn himself a spot on the team's 2019 Opening Day roster. Since then, he has been one of the team's most impressive performers, appearing in 140 of 148 games, predominantly in the designated hitter role, hitting 29 home runs, knocking in 82, and posting a .786 OPS. While his overall numbers have been some of the best on the team, perhaps the biggest criticism of Nunez, however, is his frequency to go missing late in close contests, as demonstrated by his .552 OPS in late/close games. While these results ultimately matter less in a rebuilding and evaluating season, the 25-year-old will need to improve in this space if he is to truly help the Orioles when they're next contending for a playoff berth.
While the offense has provided numerous reasons to smile, and the pitching staff has not, there has been one young arm which is fully deserving of praise and mentioning in this piece – John Means.
John Means
It's no secret the 2019 Orioles pitching staff has been nothing short of woeful, having conceded an MLB-high 908 runs (830 earned) and setting themselves on pace for historic lows. However, what is surprising is that the team's most valuable player has been a pitcher – that's how good rookie John Means has been. The 26-year-old has stood strong while more experienced, more heralded pitching staff colleagues have been battered and belted all around the place. Means was the lone Orioles All-Star and he leads the team in wins (10), ERA (3.47), WHIP (1.11) and bWAR (4.3). The highlights of his impressive season were his two seven-inning, one-run outings against the Boston Red Sox (May 6) and Tampa Bay Rays (August 24) where he allowed just three and five hits respectively. In doing so, he proved he was capable of succeeding against some of the best teams in baseball. His future looks incredibly bright and one which is set to see him lead the Orioles rotation in 2020.