Yankees Secret to Success: Team Chemistry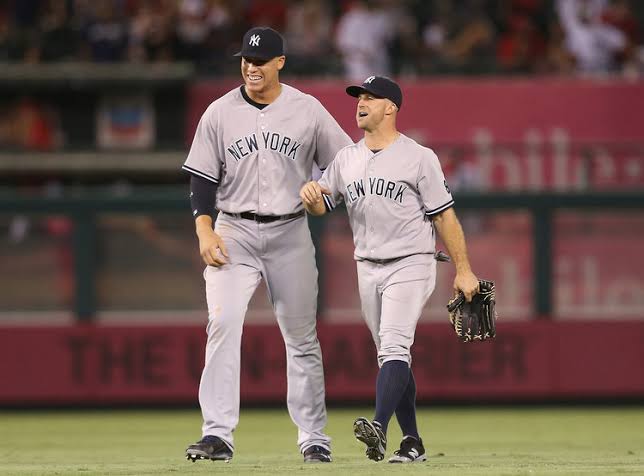 NEW YORK — There are a variety things that can lead to a baseball team having a special season.
Sometimes it's a lights-out starting pitching staff like the current Astros team, or the Braves of the 90's. Sometimes, it's a lineup full of stars bashing their way to victories on a nightly basis. And sometimes, as is the case with this group of New York Yankees, it comes down to team chemistry. It sounds almost naive, but when you break down the positive effects of team comradery it's easy to see what an impact it can actually have.
Clubhouse dynamics always start at the top, and with Yankee veterans like CC Sabathia and Brett Gardner as team fixtures, the tone has been set in the best way possible. Not only are they the two longest tenured Yankees, they both exude qualities of leadership. CC's fire and love of the game, Gardner's dedication to hustle and fundamentals. They exemplify what it means to be a ball player, and that's not up for debate.
That being said, It has been stated by many players on this year's team that the veteran players are not only passionate, but also approachable. In years past, clubhouses all over baseball were filled with hazing rituals, gruff vets, and rookies who knew to keep their heads down and mouths shut. In fact, the latest episode of Sabathia's podcast "R2C2" features a few anecdotes from CC about his experiences with the difficulties of being the new guy on the team.
While Sabathia mentioned the clubhouses of the past being much colder places, last week's guest Mike Tauchman describes quite the opposite of this current Yankees squad.
"Judgey came up to me at BP that day and was like 'hey man, if you have any questions let me know, it's great to have you here'".
It's important to keep in mind that Aaron Judge is the face of the team, and a larger than life figure in general. To not only be accepting, but to go out of his way to approach guys like Tauchman, Judge shows what a good guy he is and what a tight knit bond this team has fostered, partially thanks to him. Cameron Maybin has said similar things about how amazed he was at the team chemistry and his immediate acceptance upon arrival, and he is someone who has been around the league and seen many different clubhouse atmospheres. Now, Maybin himself is seen as another one of the team leaders and clubhouse treasures – and the wheels just keep rolling and gaining momentum. The point is, the new guys have all been pleasantly surprised by the brotherhood on this Yankees team.
So why is this important? What makes it the secret to any success? The answer to those question lies in what has become the Yankees' motto this season – next man up. With an absurd amount of injuries plaguing the team this year, there were a lot of roles that needed to be filled. Gio Urshela assumed 3rd base duty. Cameron Maybin and Mike Tauchman have seen a ton of time in the outfield. guys like Thairo Estrada, Mike Ford, and Kyle Higashioka have been needed to plug holes all season long on a consistent basis. And somehow, each of the players mentioned above have exceeded expectations. Mike Tauchman has been the hottest player in baseball since the all-star break, Gio Urshela is just about leading the team in batting average and DRS, and the list goes on. Every single "next man up" has contributed to this team's best-in-the-majors record this season.
Some may say it's the analytics department who deserves credit for finding these hidden gems. That may be true to an extent, but in my mind the only thing that can explain the extraordinary results they've seen across the board is the fact that they are comfortable. They feel like they belong, and deserve to be there. They want to help their brothers in any way they can and are all pulling the rope in the same direction. This Yankees team doesn't have the luxury of archaic clubhouse mentalities about the "new guys". In fact, the new guys being comfortable and fitting right in has been an absolute necessity this year.