Red Sox Slump to Eighth Straight Loss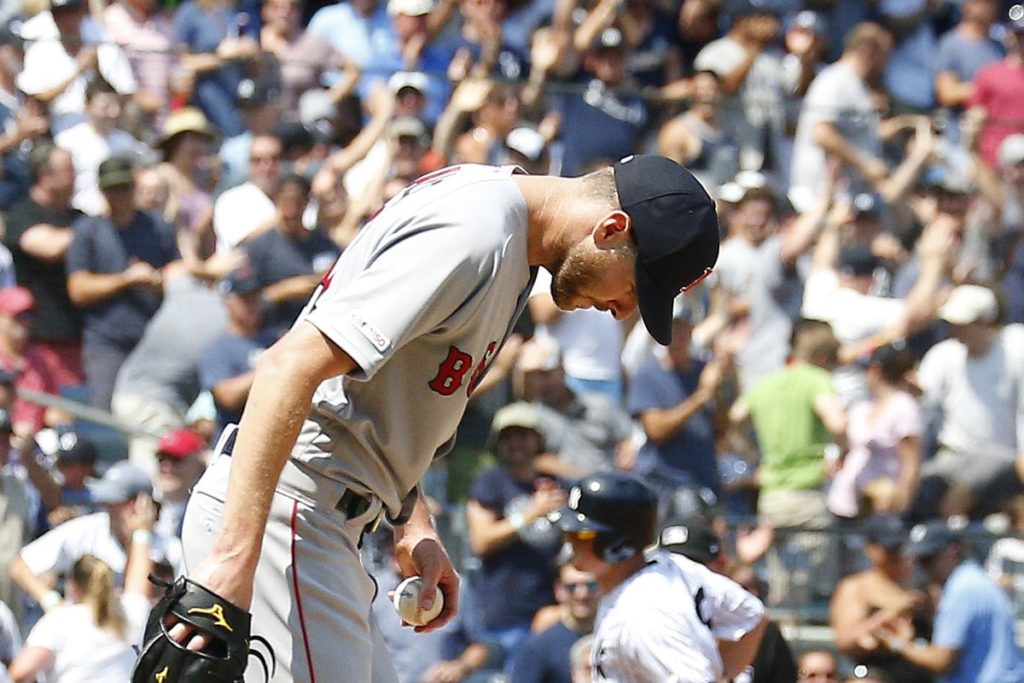 The Boston Red Sox, the team many predicted in March to go back-to-back in World Series success, are in free-fall after tonight dropping their eighth consecutive game.
In doing so, they slipped to 59-55 on the season, languishing a staggering 14 1/2 games behind the AL East Division leading New York Yankees, and 6 1/2 behind the Tampa Bay Rays who currently occupy the AL's second wildcard spot. To say their title-defending season is hanging by a thread, would be an understatement.
After losing the final game of a four-game set 6-9 to the Yankees in late-July, the Sox have since been swept in consecutive series – three games hosting the Rays and four games during a painful weekend in The Bronx. Across the eight-game stretch, the reigning world champions have been outscored 32-58, with the latter figure the one causing most concern. It's hard to remember when this ballclub last conceded 7.25 runs per game over such an extended period.
The overworked bullpen, while still a little shaky at times, has mostly performed well, allowing 13 runs in 31 innings. The rotation, however, has struggled big time, allowing 45 runs in just 37 innings. In the past eight games a Boston starter has passed the sixth inning mark just once – Eduardo Rodriguez in Friday's 2-4 loss to the Yanks. The worst performers during the extended slump have been the veteran arms in the rotation – Chris Sale, David Price, Rick Porcello, and Andrew Cashner – all of which are either ageing, overhyped, overpaid, or a combination of all three.
After being tagged for seven runs and being unable to complete three innings in the latest debacle, David Price told waiting media Sunday night:
"It's been tough. Just for myself, the rest of our pitchers, our starters, it's been a tough stretch for us for sure. We haven't thrown the ball to our capabilities the last eight or nine games and for the most part of the season, and that's been tough for us."
The latest struggles highlight the continuing demise of a once thought of impressive rotation, which is now 37-39 on the season and working to a collective 5.07 ERA. So much for being one of the team's so-called 'biggest strengths'.
Weighing into the saga, Red Sox Manager Alex Cora said:
"It wasn't a good week. Not only the trip, but the whole week, so we've got a lot of work to do. We're in a big hole, and obviously we're very talented, but it didn't go our way this week."
While the slump has raised a truck-load of questions, the biggest one on everyone's lips is whether or not the team can turn its form around down the stretch, salvage a wildcard, and possibly then come good when it matters most. While that remains unknown, and will likely become a lot clearer by week's end, with just 48 games remaining they sure better start righting the wrongs soon. If not, they'll fulfil a prediction I shared back in March, which evidently is now looking to be quite accurate…
Chris Sale = overrated.

David Price = overrated.

Boston Red Sox = overrated.

Don't @ me.

— DC ✍🏼🎙 (@DanClarkSports) March 30, 2019
The current struggles are understandably concerning for Sox fans, however what would worry them even more is the lack of talent on the farm. MLB.com currently ranks the Boston farm system the worst in all of baseball, with very few highly touted prospects set to arrive on the scene to provide relief anytime soon. This, coupled with the ageing stars and some very bad contracts, may well ensure the 2018 World Series win will be the last taste of success for some time yet…