Orioles Creating History, Turning Heads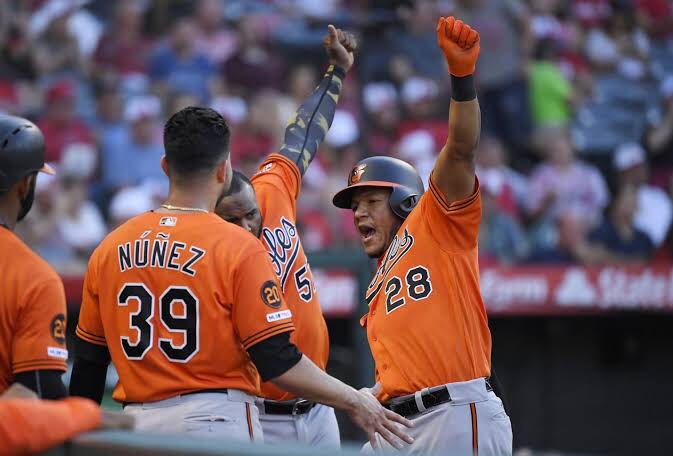 'Rebuild' – build (something) again after it has been damaged or destroyed.
If one word has been heard more than any other in Baltimore's baseball community this past year, it's rebuild. An organization-wide, top to bottom restart is now 12 months in and ever so often, some positive signs are beginning to emerge. There are some sparks of hope – sparks which will hopefully develop into fully fledged flames soon enough.
After a plucky 4-2 start to the season, with back-to-back series wins on the road against both the Yankees and Blue Jays, things got pretty ugly. The team lost 56 of its next 74 games – many of which conceding enough runs to resemble a winning football score.
According to Jon Heyman – not that I value anything coming from either his mouth or keyboard – the Orioles had no redeeming qualities and the reporters covering the team ought to be felt sorry for.
While his tweet was, at best, foolish and inaccurate, it certainly stimulated discussion. There's no doubt it made its way into the Orioles' clubhouse too, and proved to be an extra source of motivation for a group of young and inexperienced players already hell bent on proving their doubters wrong.
And that's exactly what they're doing…
Since June 28 the Orioles have won more games than they have lost, owning a 12-11 record, and outscored their opponents 136 to 121 during this stretch. But more incredibly, one three separate occasions they've created MLB history.
They beat the Indians 13-0 on both June 28 and June 29, setting a new all-time MLB record for the most one-sided consecutive shutouts.
They won a 16-inning marathon on July 25, which lasted 6 hours and 19 minutes. It finally ended with center fielder Stevie Wilkerson recording the first save by a position player in MLB history.
They slugged two or more home runs in 10 consecutive games between July 17 and July 27 (still active), setting a new all-time MLB record.
In addition to these three historic feats, some of the individual performances during this stretch have also been quite noteworthy…
Renato Nunez has hit .341 (28-for-82) with nine home runs and 21 RBI, boosting his OPS to .847. He's now on pace for 39 home runs this season.
Mychal Givens has worked to a 1.93 ERA across seven relief appearances (9 1/3 innings). His trade value has risen sharply and many teams are on the look out for bullpen relief.
Andrew Cashner tossed two seven-inning outings (against the Indians and Blue Jays), allowing just six hits and one run total. It further boosted his value before being trade to the Red Sox.
Asher Wojciechowski tossed two consecutive 7+ inning outings on July 21 (v Red Sox) and July 26 (@ Angels), including taking a no-hit bid into the 7th inning and striking out 10 against the Red Sox.
All thing considered, the Orioles have had a memorable month and one which most didn't see coming. They've been so good in fact, that they're now well ahead of the Tigers in the battle of avoiding MLB's worst record – 35 wins to 30. With 58 games remaining, there's a good chance they'll win 60 games and may even avoid a second consecutive 100-loss season. While this would likely see them miss out on another No. 1 draft pick, the confidence it would bring all concerned is unmeasurable. In particular, it would ensure rookie manager Brandon Hyde receives high praise for what he's been able to achieve with what many labelled a Triple-A roster at the start of the season. That praise, which would be thoroughly deserve, would raise spirits and hold him in good stead for the seasons ahead.