New Rules? The Circus Is In Town!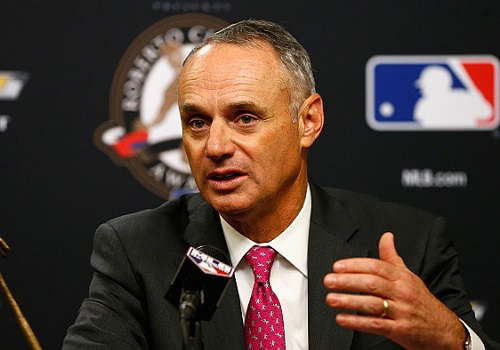 In yet another move that tinkers with the greatest sport in the world, the Atlantic League, in partnership with Major League Baseball, yesterday announced four new rules.
This latest list of experimental playing rules will be in place during the second half of the 2019 Atlantic League Championship Season.
A pitcher is required to step off the rubber in order to attempt a pickoff.

One foul bunt is permitted with two strikes, before a strikeout is called.

Batters may steal first base on any pitch not caught by the catcher.

The check swing rule has been made more batter-friendly.
These new experimental playing rules add to the current experimental rules and equipment changes being trialed since the start of the 2019 season.
Home plate umpires being assisted by a radar tracking system and an MLB-defined strike zone.

No mound visits are permitted by players or coaches other than for pitching changes and medical visits.

Pitchers must face a minimum of three batters or reach the end of an inning before they can exit the game (unless the pitcher becomes injured).

An increase in the size of bases from 15 inches square to 18 inches square.

The time between innings and pitching changes reduced from 2:05 to 1:45.
After learning of these latest four new rules, I – and most baseball fans I have spoken to these past 24 hours – just cannot understand the logic or justification.
Statistics show that baseball has taken a dramatic shift towards offense in recent years, largely on the back of using more sophisticated and detailed analytical data, and the way that has in-turn impacted coaching. For years, hitting lagged behind pitching in its use of science and technology, but that is certainly no longer the case. This shift has resulted in superior launch angles and improved exit velocities, which sees more balls being hit in the air and balls being hit much harder.
As baseball continues its shift to more offense, one would think new rules put in place would seek to level the playing field somewhat. However, these new rules seem to do quite the opposite.
When addressing the new pick off rule, the beauty of the pick off is the element of surprise. It plays such an important role in limiting a team's running game, ensuring those willing to risk taking too great a lead could find themselves back in the dugout quick smart. Instead, with this new rule, only the dumbest of dumb baseball players would find themselves picked off if the pitcher has to step off the mound.
With regards to the new foul bunt rule, this seems far better suited for little league players, as opposed to professionals. While I don't want to undervalue the difficulties of facing a pitcher throwing 100mph heaters, professional baseball players should be able to lay down a bunt upon request. As it currently stands, they already get two attempts at it – why would they need a third? The beauty of the current rule is that it challenges the hitter to change his approach if he fails in his first two bunt attempts. Keep it that way.
As for the other two new rules, the concept of batters being able to steal first base just seems idiotic, while shifting the leniency of check swings more into the batters favor only tips the balance between pitching and hitting even further the batter's way.
Rob Manfred and his team at MLB are obviously looking for ways to bring fans back to the ballpark, and it's widely accepted that to assist this, thing need to change. However, tinkering with the beautiful game in such a way is not the answer. It's comical and not popular with the fans. If anything, it will only alienate them further, not bring them back.
If baseball truly wants to bring fans back to the ballpark, it needs to become more fan friendly, with substantive changes that help families and allow them to experience a fun night out. Lower ticket costs, work with stadiums to lower food and beverage costs, or work with city councils to improve supporting infrastructure around stadiums, cutting travel times and enhancing convenience. These are the substantive changes that will bring people back, not ridiculous rule changes.
In a sport increasingly being driven by greed though, there seems little hope of these substantive changes occurring. Instead, we're probably more likely to see mascots being able to pinch hit and fans being able to manage an inning in 2020. Let the circus acts continue!