Three Weeks To Decide Davis' Future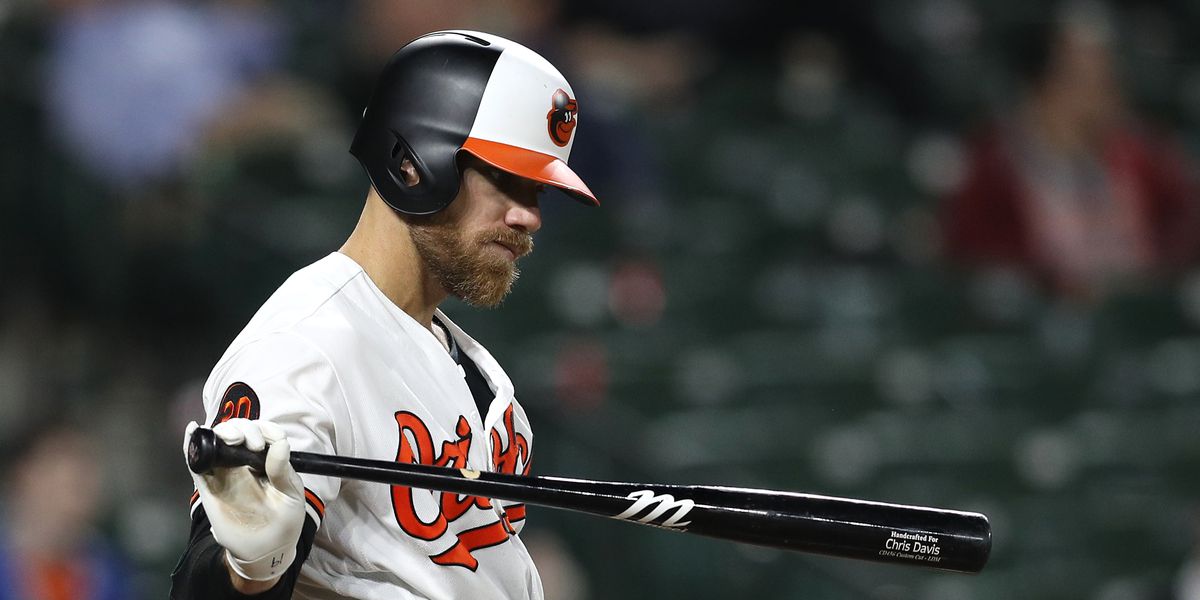 Frustrations are boiling over and the loss column continues to bulge at an unprecedented rate, as the painful rebuild in Baltimore continues.
In recent weeks we've started to see the true toll of this painstaking process rear its ugly head. The stocks of numerous big leaguers have crashed considerably, and rookie manager Brandon Hyde has lost both his patience and temper, with outbursts at umpires on field and his players off it. Nobody is immune and nobody is safe. Everyone is on notice and those who do not seize and/or appreciate these rare, extended playing opportunities afforded to them, will be banished.
The Orioles have lost a staggering 185 of their last 257 games dating back to September 2017 – an unwanted and unprecedented historic low of 72%.
While much of the blame is being slapped on the horrendous bullpen, one name which is surely set to come under closer scrutiny over the coming weeks is that of Chris Davis – owner of arguably the worst failed contract in professional sports history, not just baseball.
As most of you reading this will be well aware, I've been a fan of Davis since first meeting him back in 2015 when he was the most feared hitter in all of baseball. He's a lovely guy with a great sense of humor who remains extremely passionate about baseball. On countless occasions I've written how I hope (even expect) him to rebound and find something close to the form he once had. It was only a month ago where I wrote how he appeared to be turning the corner and producing at a productive level. The decline since however has made me – and almost everyone else connected to the situation – doubt the validity of the hot streak. Instead, it unfortunately appears that nothing has changed and the Orioles remain stuck with the most underperforming, overpaid slugger of all time. It's a terribly sad situation for all involved, including Davis.

Even despite the impressive middle section which lasted almost five weeks, his overall numbers in 2019 are appalling – even worse than they were during his historically poor 2017 and 2018 seasons. Since the start of that 2017 season, Davis is hitting well below the Mendoza line at .186, and owns an OPS nudging just .620. During this span he has hit just 47 home runs in 1,226 plate appearances – equating to a home run every 26 trips to the plate. Between 2013 and 2015 during his prime, he was hitting them at a rate of one in every 15 – vastly different.
We're very quickly nearing the halfway mark of Davis' 7-year, $161 million deal and it's becoming more and more likely the Orioles will soon consider cutting their losses and parting ways with the burly left-hand hitting first baseman. Make no mistake, the frustration levels are so high within 'The Warehouse' that conversations about writing off an almost $80 million figure will soon occur. It's a scary thought and one which often under siege owner Peter Angelos will be absolutely furious about. Renowned for being historically cautious in providing big long-term contracts, he will certainly think twice about such decisions in future should the opportunity present itself. Sources close to Angelos indicate he feels burned by the poor free agent signing, adding to the list of failed contracts in recent years which also includes the likes of Ubaldo Jimenez, Mark Trumbo, and Yovani Gallardo. I don't think former general manager Dan Duquette will be on Angelos' Christmas card list.
With the All-Star Game just a few weeks away, it will afford Hyde and new general manager Mike Elias to pause and reflect on the first half of the season. With countless difficult discussions and tough decisions expected during this time, Davis' struggles will be high up on the agenda. If the Orioles truly are embracing this rebuild and looking to free the organization of the weighty dead wood accumulated during Dan Duquette's tenure, then there's only really one way to go on Davis. With that in mind, it's fair to suggest that the next 17 games will define Davis' career – or at the very least his future in Baltimore.