Reasons To Smile In Birdland, Despite Poor Record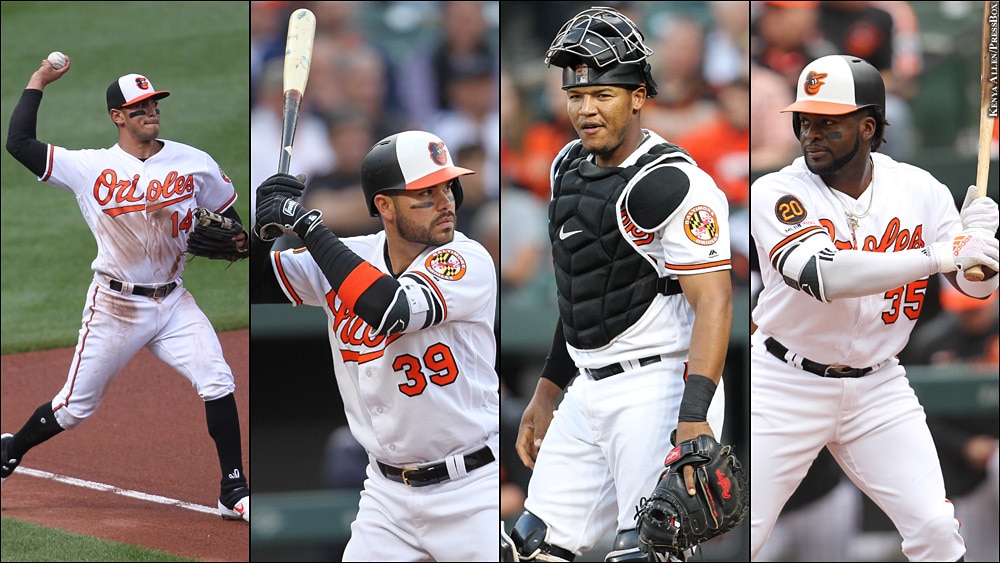 On face value, a 19-43 record would suggest the Baltimore Orioles' 2019 season isn't going very well. Along with the Kansas City Royals, they own the worst record in baseball.
Somewhat incredibly, despite the pain the fans have had to endure throughout these past 10 weeks, the team is actually on pace to win more games than it did last season – currently tracking at 50 wins, three more than they managed in 2018. Combined, they're on pace to record 227 losses in just an 18-month span.
Writing my latest piece. One stat I just found has hit me like a Mack Truck flying down the highway at 80mph…

On current pace, the Orioles will finish 2019 having lost 227 games in 18 months.

— DC ✍🏼🎙 (@DanClarkSports) June 7, 2019
The losses have been brutal, with bullpen implosions typically being the cause of heartache. Some of the more experienced relievers on the roster have stumbled at times where the younger, less experienced players in the lineup have put up six, seven, eight, or even more runs, only for it to ultimately prove a futile cause.
Despite the bulging figure in the loss column, there has, surprisingly, still be plenty of reasons to smile this season. As the organization continues its rebuild, chances have been provided to players who prior to March were largely unheard of, and many of them are seizing their opportunities.
Five Orioles Seizing Their Opportunities
Trey Mancini has been brilliant all season and is deserving of All-Star selection. He is also an overwhelming favorite to take out team MVP honors – it would taking something exceptional for him to be caught, he's already that far ahead. With the departure of many veterans these past 12 months, Mancini, who is only in his third full season himself, suddenly became one of the team's more familiar names and assumed an unofficial leadership role. He's flourished ever since, hitting .306 with a .915 OPS through 256 plate appearances. The consistent hitting has been pleasing and it hasn't come at the expense of power, with the 27-year-old notching 31 extra-base hits already, including 13 home runs.
John Means has been the shining light in what has been a very, very ordinary pitching staff. He is currently, without a shadow of a doubt, the ace of the rotation. It's becoming increasingly hard to remember, however heading into Spring Training many believed Means was pitching for his career after an inconsistent 2018 season in the minor leagues and a forgettable MLB debut where he allowed five earned runs in just 3 1/3 innings against the Boston Red Sox in late September. He survived though, and has excelled since, working to a 2.67 ERA through 60 2/3 innings of work. His success has made others take notice too, with his name now being floated around as a potential All-Star selection.
Dwight Smith Jr. has proven many of his doubters wrong throughout the first 10 weeks of the season and is making up for lost time and limited playing opportunities in Toronto, where he spent the last two seasons. After being traded to the Orioles midway through Spring Training, the 26-year-old has looked quite comfortable in the major leagues, hitting .249 with a .759 OPS in 243 plate appearances. He has a knack of coming up clutch, with 11 home runs and 41 RBI, hitting .370 (20-for-54) with runners in scoring position. Of his 11 home runs, he's hit one grand slam, two 3-run homers, and four 2-run homers – he's dangerous and pitchers are starting to take notice.
Renato Nunez struggled to find consistent playing time with the Oakland Athletics and Texas Rangers between 2016 and 2018, playing just 30 games before landing in Baltimore in the second half of last season. In 60 appearances, he impressed, hitting seven home runs, 13 doubles, and owning a .781 OPS. This initial success was hoped to continue on into 2019 and it certainly has, leading the team in home runs with 15 and a .783 OPS. Offering Manager Brandon Hyde with flexibility, being able to play either infield corner, the outfield, or DH, Nunez adds plenty of value to this team and is still just 25-years-old. He's worth keeping around for a while and could even find himself a contributor when the Orioles next look to challenge, hopefully in three or four years from now.
Pedro Severino has fought off challenges from Jesus Sucre, Chance Sisco, and Austin Wynns, to become the Orioles' best catching option, and not only because of his hot bat. Behind the dish Severino has been more than reliable, working well with an inexperienced rotation and controlling opponents' running game, hosing nine of 16 runners (56%). The only fault with his defense has been the tendency to lapse, as seen by his four errors and five passed balls which have often hurt the team. If he can get that under control, he's one to watch for the future, as his bat is more than encouraging. Through 121 plate appearances, he's hitting .286 with a team-leading .929 OPS. Of his eight home runs, three came in one game earlier this week in Texas – keep an eye on this 25-year-old.
With more than half a season remaining, far more pain is expected. That will continue on throughout 2020 and most likely the early parts of 2021 too. Organizational-wide rebuilds take a lot of time and require plenty of patience. However, the once hidden gems found along the way, combined with the young prospects brought in from far and wide, provide relief and much-needed hope.
The five names mentioned above are just the start of things to come. Many others will reveal their talent and potential over the coming seasons and hopefully, if all goes according to plan, the Orioles will have themselves a competitive roster soon enough. For now, forget the win/loss column and focus on the impressive returns from resilient youngsters hell-bent on seizing their opportunities.