Davis' Productive Month Raises Hopes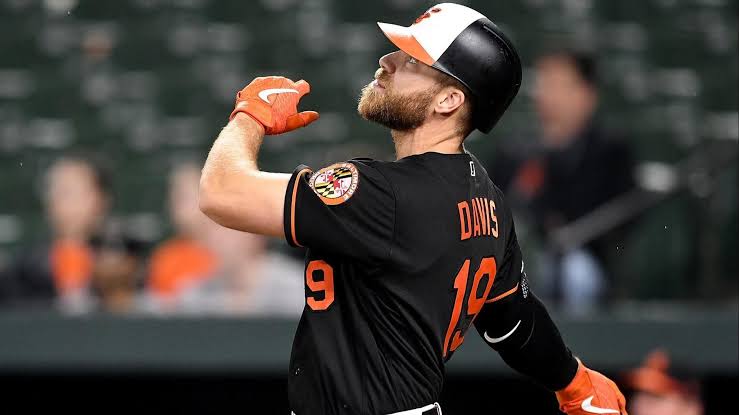 Throughout what has been a drama-filled, chaotic 24 months in Baltimore, the struggles of Chris Davis more than anyone else have reflected the demise of a proud baseball club.
As the Orioles dramatically crashed out of contention in 2017 and limped their way through a 115-loss season in 2018, Chris Davis' production nosedived, unable to repay the faith shown in him by the organization at the end of the 2015 season upon signing a 7-year, $161 million free agency deal.
After the team flirted with an ALDS berth in 2016, Davis' regression from his 47 home run season just prior was significant, owning a .791 OPS (down from .923) with 38 home runs. With such high expectations, many attributed the dip in production in 2016 to the mental struggles and the pressures of meeting such a lucrative salary. Many believed, or certainly hoped, that the following years of the monster deal would see him rebound to one of baseball's most feared hitters.
Ironically, showing just how far the 33-year-old's value plummeted in the following two seasons, all of Baltimore and perhaps even Davis himself would be pleased with those 2016 numbers going forward – despite being, at the time, somewhat disappointing. Through the 2017 and 2018 seasons combined, Davis hit just .191 (177-for-926) with 42 home runs and a .635 OPS. After what was now three years of disappointment, most Orioles fans had lost hope of ever seeing Davis return to his glory days. Every fan and reporter had a theory; his non-TUE (Therapeutic Use Exemption) to use Adderall (or alternative), his unwillingness to change his approach, his mental demons, the Orioles' coaching staff, etc. Some even questioned his work ethic. While everyone hypothesized, only one person truly knew the cause(s) and that was Davis himself.
Having spent some time with Davis previously, he is really a likeable guy. In 2015 after first meeting him in the Orioles locker room prior to an early-April game against the Toronto Blue Jays, I introduced myself as "Dan Clark, from Australia". To this day, I still wonder why the hell I used such a term to introduce myself – perhaps it was the nerves of meeting one of MLB's most high profile players (at the time). He responded, "Chris Davis, from Texas." He full-well knew I was aware of that, however his happy-go-lucky, relaxed personality shone through – a cool guy with a good sense of humor. After a lengthy chat with he, Adam Jones, Delmon Young and others, I left. Upon leaving, I heard a shout from the other side of the room, "See ya, Dan Clark from Australia!". It was Davis. I quipped back, "See ya, Chris Davis from Texas!" – a round of laughter and smiles followed. It was one of life's lighter moments and one which I'll never forget.
Hand on heart, I've always wanted to see Davis succeed. He's a good person – a man of faith, family-orientated, and someone who gives a lot of his spare time back to worthy causes. Year after year, Davis, his wife Jill, and their young children spend time with critically sick children in hospitals, appear at and donate to charitable causes, and participate in countless Orioles' fundraising events. Nobody can truly begrudge an athlete who goes above and beyond to do these things away from the bright lights the way he does, regardless of his poor performance on field. However, while I cannot begrudge his persona and work ethic (despite those who claim otherwise), I too was running out of patience entering the 2019 season. Despite all the pros, there was no shying away from the fact he earns $23 million annually and finished 2018 on an 0-for-21 skid. According to FanGraphs, he was officially the worst position player in baseball with a -3.1 WAR rating.
Incredibly, and somewhat incomprehensible, despite all the struggles of 2016-2018, the 2019 season started even worse. A miserable Spring Training campaign where Davis hit just .189 (7-for-37) was followed by an 0-for-33 start to the regular season. Combined with his finish to the 2018 season, Davis was riding an unprecedented 0-for-54 skid – the worst in MLB history. Luck just wasn't on Davis' side. On numerous occasions he would make solid contact on a line drive, only to find a shifting infielder or an outfielder diving at full length completing a web gem. The fans caught onto this too, as the chorus of boos for Davis suddenly shifted to a chorus of empathetic cheers as he strode to the plate. Knowledgeable as ever, Orioles fans knew his luck would turn sooner or later.
Sure enough, it did. Davis' three hit game (including two doubles) against the Boston Red Sox in a 9-5 Orioles win exactly one month ago not only snapped the record-breaking hitless skid, it also sent a shockwave of confidence through the imposing slugger. Suddenly, he was smiling again. The pressure valve had been released and he could feel like he belonged again, contributing to his team's success. From there, he hasn't looked back. Over the past month, at the time of writing, Davis is 18-for-59 (.305) with five home runs, three doubles, and 15 RBI.
Chris Davis' Last Month

• 18-for-59 (.305)
• 5 home runs
• 3 doubles
• 15 RBI

This has been sustained success over a month now – something he hadn't done for a few years. Really encouraging signs from the big guy.#Birdland

— DC ✍🏼🎙 (@DanClarkSports) May 12, 2019
Not only has he raised his production to his previous All-star levels, he has continued to play impeccable defence at first base, something which is so often overlooked in comparison to his offensive struggles. This sustained success, over a significant period of time, is something to be encouraged by. He seems to have vanquished the demons. He looks locked in at the plate, with his pitch selection returning to its highs of yesteryear – aggressive early in the count, yet patient and content enough to draw a team-benefitting walk if the situation presents itself. Some recent 10-pitch at bats have highlighted his improvement. His body language and approach at the plate once again exude confidence, much like they did during his home run leading 2013 and 2015 seasons.
Is it too early to say Davis is 'back'? Of course. He still has a lot of work to do before the success-starved Orioles fan base can collectively erase the memories of Davis' nightmarish run between 2016-2018. However things are finally trending in the right direction – something which hasn't happened for quite some time. Hopefully this period of success helps Davis remember just how capable a hitter he is. Perhaps that's all he needed? A little boost in confidence and a reminder that he still has plenty to offer this game over the remaining four years of his contract (and potentially beyond).