Six Early Observations in 2019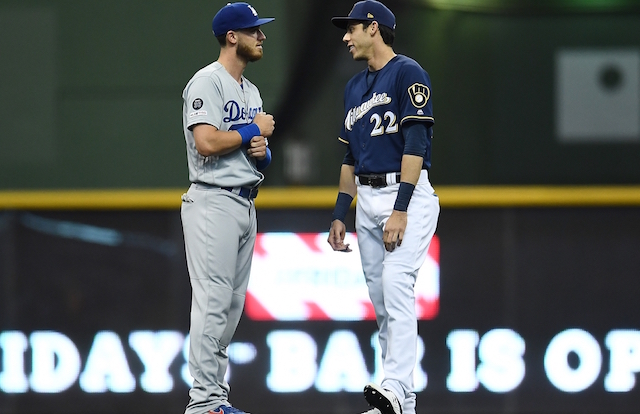 As we near the second month of the season, many MLB division tables and statistical leaderboards are starting to take shape. The best teams and players in baseball have found some rhythm and the cream is rising to the top. 
Never before have there been so many home runs hit and strikeouts incurred within the first few weeks of a new season, and fans are continually being reminded just how valuable power hitters and dominant rotations can be to a team's chances of success.
While there's been countless storylines and topics for discussion and debate, here's my six biggest talking points from the early parts of the new season.
Yankees Defying the Odds of a Horrendous Injury List
Love them or hate them, one thing which won't divide opinion is how impressive the New York Yankees have been throughout their first 21 games – especially considering how many injuries they're having to overcome. The number of names on the current Injured List resembles one following a 10-car collision on the Cross Bronx Expressway, with Miguel Andujar, Dellin Betances, Greg Bird, Jacoby Ellsbury, DiDi Gregorius, Ben Heller, Aaron Hicks, Aaron Judge, Jordan Montgomery, Gary Sanchez, Luis Severino, Giancarlo Stanton, and Troy Tulowitzki all recovering from various aches and stains. Collectively, many would argue that in itself is a 100+ win team.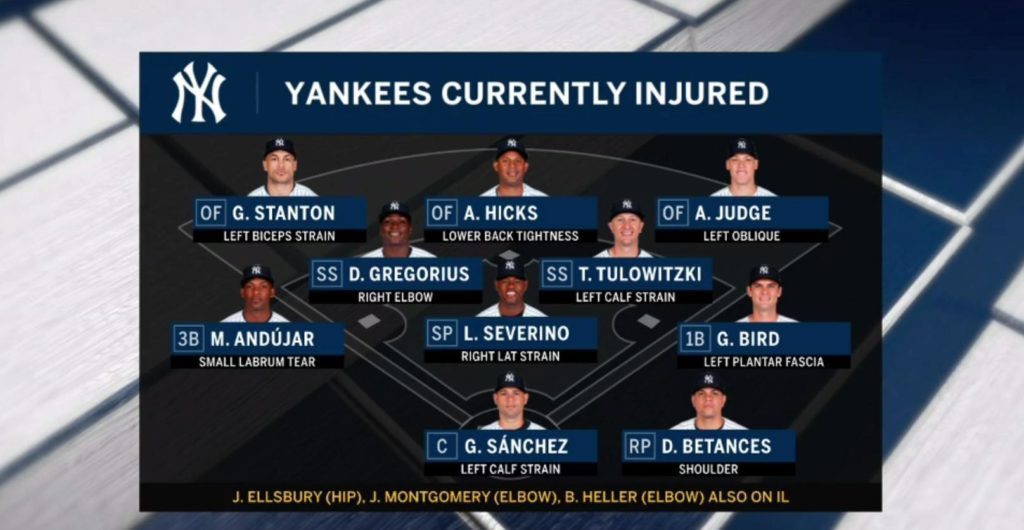 Despite so many stars missing, the Yankees are 11-10 and just 2.5 games behind the division-leading Tampa Bay Rays. They've received some really strong returns from the likes of D.J. LeMahieu, Clint Frazier, Mike Tauchman, and Austin Romine, who have all capitalized on the extra opportunities created through adversity. James Paxton (2-2, 3.10 ERA), Domingo German (3-1, 2.37 ERA), Masahiro Tanaka (2-1, 2.76 ERA), and CC Sabathia (1-0, 0.00 ERA) are all providing strong platforms for the lesser-known stars to put enough runs on the board to win, and if they can continue in that vein, they'll be ready to surge when the big bats return.
The AL West Slugfest is Incredibly Enjoyable
The Wild West is certainly living up to its reputation, with most of the teams' offences having very strong starts to the new season. The surprising Seattle Mariners (160) have scored more runs than any other team in the major leagues, while the also-surprising Texas Rangers (116) occupy a share of third place on that table. The Oakland Athletics (110, 10th), Houston Astros (98, 18th), and Los Angeles Angels (96, 19th) are also putting enough runs on the board to ensure they're competitive more nights than not.
The runfest has been reliant upon the long ball, and combined the five teams account for 182 (21.1%) of the 862 home runs hit in the major leagues so far this season. The main contributors to the large tally have been Khris Davis (11), a resurgent Jay Bruce (9), Jose Altuve (8), Joey Gallo (8), Daniel Vogelbach (8), Mitch Haniger (7), George Springer (7), Asdrubal Cabrera (6), Matt Chapman (6), Edwin Encarnacion (6), Tommy La Stella (6), and Mike Tout (6) who are all positioned in the Top 20.
Quite incredibly, 12 players in the AL West already have six home runs or more this season.

The division accounts for 182 (21.1%) of all home runs hit this season in the major leagues (862).#TrueToTheBlue#TakeItBack#RootedInOakland#TheHaloWay#TogetherWe

— DC ✍🏼🎙 (@DanClarkSports) April 22, 2019
The NL East will be Baseball's Closest Division
At the start of the season I predicted that the NL East would be the most entertaining division race in all of baseball, and that prediction certainly hasn't changed. While the Miami Marlins (6-16) continue to look lost and lacking direction, the other four teams are all in contention with .500 or better records and are separated by less than two games.

After a series of strong winter and spring roster additions, the hype surrounding the Philadelphia Phillies seems to be legit, with a power-packed offense lead by Bryce Harper, Maikel Franco, Rhys Hoskins, and Andrew McCutchen scoring 116 runs (tied for third in all of baseball). The Atlanta Braves are hot on their heels though, with Ronald Acuna Jr. continuing on from a wonderful 2018 rookie season, being well supported by usual suspects Freddie Freeman and Nick Markakis. The New York Mets' rotation has been surprisingly inconsistent and has conceded an average of 6.33 runs per game, however the efforts of rookie Pete Alonso and Michael Conforto have masked many of their struggles. Meanwhile, over in the Nation's capital, Anthony Rendon's red hot start to the season is almost single-handedly keeping the Washington Nationals in the hunt.
The Dodgers are in Cruise Control Mode
After two World Series heartbreaks in two seasons, the Los Angeles Dodgers are hell-bent on returning for a 'third time lucky' attempt, and they've started their quest well at 15-9 – the second most wins in baseball. Looking to win a seventh consecutive NL West title, the Dodgers have opened up a 2.5 game lead on the resurgent second-place San Diego Padres.
The success of the team thus far has been largely due to the scorching hots bats of Cody Bellinger and Joc Pederson, with the pair of outfielders combining for 21 home runs and 44 RBI in 24 games. The supporting cast of Kike Hernandez, Max Muncy, and Corey Seager has seen the team reach Top 3 status in many key statistical leaderboards.
Home Runs (44, 2nd)
RBI (132, 2nd)
Runs Scored (136, 2nd)
OPS (.847, 3rd)
While the bats are hot in the Californian spring, there are a few concerns on the pitching front – most notably in the bullpen where Yimi Garcia and Joe Kelly (among others) have struggled big time. The 'pen does seem a little shaky at times and they'll certainly be hoping for some stability in the coming weeks.
Baseball's Best Hitters are Having a Huge Month
Even the luckiest gambler alive would admit that baseball is one of the hardest sports in the world to predict, however one thing which has been a near certainty this season is the number of big names heading up the top positions on the batting leaderboards. Through almost four weeks of the season, the likes of Cody Bellinger, Christian Yelich, Mike Trout, and Anthony Rendon all dominate the charts, ably supported by exciting youngsters Pete Alonso, Ronald Acuna Jr., Clint Frazier, and Fernando Tatis Jr.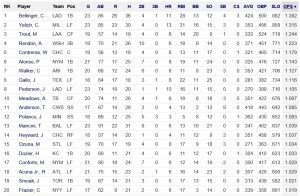 While the efforts of many are hard to ignore, the two which have really stood out for me are the two occupying the top two positions – Cody Bellinger and Christian Yelich, two of the game's brightest young stars. Bellinger's significantly improved levels of consistency have really impressed me, especially his numbers against lefties which have often been a source of criticism in the past. Yelich meanwhile is proving that his MVP season in 2018 was no fluke, mashing his way to an MLB-best 13 home runs and 31 RBI.
The Orioles' Pitching is Bad… Very Bad
After a 115-loss season in 2018 and the departure of nearly all of the ballclub's star players, the Baltimore Orioles entered the new season in full rebuild mode and with that came an expectation of pain ahead. That was embraced by long-suffering fans who were encouraged by early results as the team won four of its first six games on the back of some timely hitting and, on the most part, quite reliable pitching. That, however, has changed in the weeks since as both the rotation and bullpen have flunked miserably.
Through 23 games, the Orioles have conceded a staggering 149 runs at an average of 6.48 per game. Over the course of a 162-game season, that's an eye-popping 1,050 runs. The biggest concern has been surrendering the long ball, of which the team has allowed 57 already. They're on pace to become the first team in MLB history to concede more than 400 home runs in a season, an unwanted record for any team, even one in rebuild mode.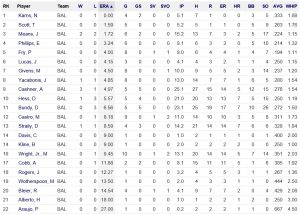 There are too many culprits with ERAs above six on this list to single out individuals, and quite frankly it's been an absolute mess on the whole. They've conceded seven or more runs in seven of their last 17 games, four of which yielding tallies of 16, 10, 13, and 15 respectively.