It's Time To Embrace The Bat Flip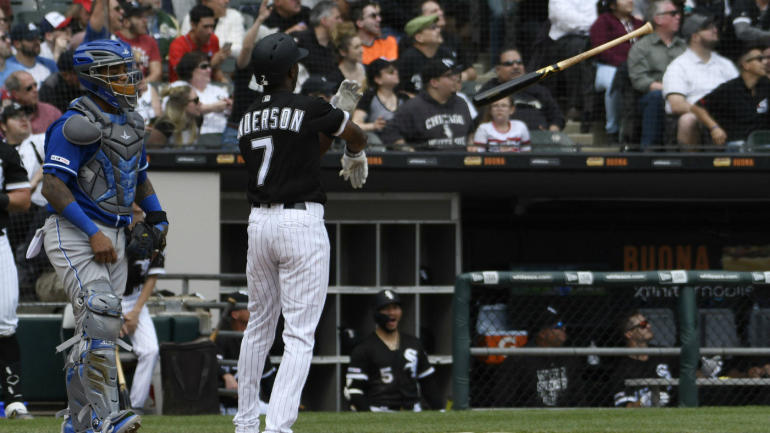 Described as the throwing of a bat in such a way to show off after hitting a home run, an oft debated and increasingly divisive topic within baseball is the home run bat flip.
The act, as simple and innocent as it may seem, steals headlines and stimulates debate. Often, millennials love it and traditionalists are absolutely enraged by it. One thing both sides of the ledger will agree upon though is that its frequency and media coverage in recent years has increased dramatically.
On Wednesday, Chicago White Sox shortstop Tim Anderson became the latest headline creator when he crushed the 50th home run of his career and followed it up with a bat flip for the ages – a javelin-like hurl towards his teammates in the dugout. Sure enough, the inevitable retaliation followed a few innings later when he was plunked by Kansas City Royals hurler Brad Keller, an act which sparked a bench-clearing brawl and lead to four ejections, including that of Anderson.
As predictable as a windy Chicago day in October, Twitter went into meltdown.
This, over a bat flip.

If you don't like the bat flip, don't serve up meatballs that get jacked. https://t.co/IHwMjOsDAI

— DC ✍🏼🎙 (@DanClarkSports) April 17, 2019
Yet again, the bat flip had started a war and the baseball community was divided.
In most Asian baseball playing nations – Korea, Japan, and Taiwan to name a few – the bat flip dates back to the early 1990s and remains popular and well celebrated. Likewise, it does in many Latin American leagues too. In the United Stats though, it's traditionally been frowned upon and considered rude and against baseball etiquette. Like other divisive topics, it remains one of baseball's unwritten rules – rules which exist to encourage humility and discourage actions which may be perceived as arrogant or 'showing up' an opponent.
One of the more notorious bat flips in recent memory, Jose Bautista's epic toss after monstering a go-ahead 3-run shot in Game 5 of the 2015 ALDS against the Texas Rangers, almost broke social media and quickly became one of the most popular baseball memes of all time.
Others who have followed suit in recent years include Yasiel Puig, Asdrubal Cabrera, and Edwin Encarnacion – all of which hailing from South American nations where baseball is played with unrivalled levels of flair, excitement, enjoyment, and showmanship.
Following Anderson's heavily discussed bat flip on Wednesday I immediately voiced my opinion on Twitter, noting how in every other North American sport scoring is celebrated and rarely deemed offensive. Touchdowns, slam dunks, and slap shots are often followed by celebrations full of energy, excitement, and passion. In baseball though, especially after a home run is hit, it's different. Despite being one of the most dramatic ways to score on the baseball field, an overzealous celebration after sending a moonshot into the bleachers continues to upset fans by the thousands.
That needs to change.
Major League Baseball is forever widening its reach, searching all corners of the globe to bring in the best baseball talent on offer. The number of Asian and Latino players gracing major league fields continues to grow and will remain that way for the foreseeable future. With that, comes a level of diversity never seen before. Not only are we being introduced to new players and new fans, we're also being introduced to new cultures – many of which play, watch, and celebrate baseball in a way that's vastly different to the way it's been in the United States for more than 150 years. These new cultures rub off on teammates and younger generations growing up idolizing their heroes on television and in ballparks all over the country.
This increasing level of diversity within baseball and the desire of this new generation of baseball fans to be entertained needs to be acknowledged and accepted. Like many other sports around the world, baseball needs to embrace change. Between longer working hours, a stronger emphasis on ongoing education, and the struggle of striking a balanced lifestyle, society is more time poor than ever before. People want to spend their decreasing amount of free time being entertained. The unwritten rules of the past, created for no other reason than to show the highest amount of respect to an opponent, are – like it or not – outdated and largely irrelevant. There are many ways to disrespect an opponent on a baseball field and flipping a bat during an emotionally-charged act of celebration is not one of them. A bat flip can excite a crowd, it can lift a team, and with an acceptance of our changing game, it can certainly be embraced.