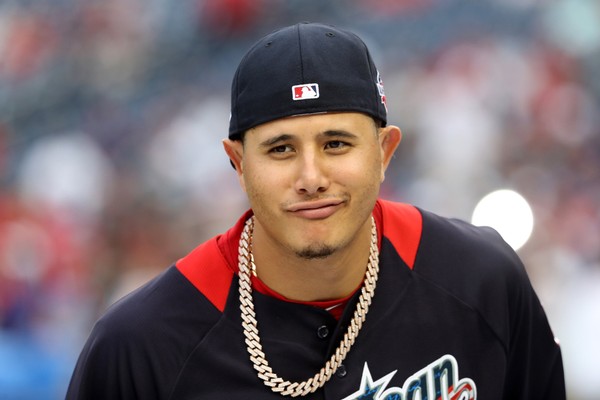 "Fool me once, shame on you. Fool me twice, shame on me." – but what happens when you're fooled more times than that though, say three, four, or five times for example?
This is the scenario facing many Orioles fans this morning as they wake up on Wednesday to the news of Manny Machado's repulsive comments late last night.
For those still unaware, here's what the charming young infielder recently had to say about the Baltimore Orioles organization…
Manny Machado's full quote…#Orioles pic.twitter.com/CGnLXyUx3U

— DC ✍🏼🎙 (@DanClarkSports) February 27, 2019
Firstly, let's be clear – these comments were (reportedly) not directed at the millions of Orioles fans who absolutely adored him, cheered for him, and supported him through good times and bad since being drafted as a prodigious teenager, third overall in the 2010 MLB Draft. No, they were directed at the organization as a whole.
Regardless, incredibly loyal Orioles fans won't care. They just won't – not one bit. Whether the comments were directed at the passionate fans or the organization as a whole, it's absolutely irrelevant. The motive is clear and the venom cuts deep. A loyal, united fanbase, starved of success, it unites in times like these and collectively focuses its just as potent venom back at the attacker. In this case, Machado is the target – and quite frankly, he deserves all he gets.
Machado's harsh, bridge burning, downright stupid comments came on the back of inking a 10-year, $300 million deal with the San Diego Padres. For months we've wondered who would be 'lucky' enough to sign the mercurial infielder, however now we must wonder if the Padres are equipped to control such an explosive, perhaps ungrateful individual.
How many chances must this man get? How many bridges must he burn, and enemies he create, before people – in all circles of baseball – finally understand just how bad his attitude can be sometimes? I sit here writing this piece wondering why I – and many others in Baltimore – gave this guy so many chances. Even after all of his highly criticized on-field acts and careless off-field comments, we stuck by him. He was our Manny and we defended him loyally. Blindly, sometimes. Even when the inevitable time came to say goodbye at last season's trade deadline, we defended him. The lack of hustle comments came and went, and we still defended him. Hell, it was less than 24 hours ago that I wrote how I thought he could turn in an MVP caliber season having found a new home. I still, foolishly it seems, defended him.
Not any more though – no way.
Machado's comments last night attacked an organization that stuck by him through countless indiscretions. The Orioles had Machado's back when he was first ejected for arguing a strike three call in June 2013, and later that season when he suffered a horrific knee injury in September. The organization also had his back in 2014 when he started a war with Josh Donaldson and the Oakland Athletics in June which lead to a bench-clearing brawl, and then again after he struck Derek Norris with a bat the following night. That same night he threw his bat towards third base, resulting in another ejection and a suspension. Of course, the Orioles still had his back. Later that season he injured his other knee and for the second time in as many years missed the remainder of the season. That included the Orioles' magical 2014 postseason run.
In 2015 the Orioles stuck by Machado when he made 21 errors – the fifth most of all players in the American League. Typically it was manager Buck Showalter who defended his inconsistent defense at third base, which had the often costly habit of lapsing at crucial times. A year later, the Orioles stuck by Machado when he charged the mound and repeatedly punched the late Kansas City Royals pitcher Yordano Ventura in the face, yet again starting a bench-clearing brawl. They stuck by him right through the will-he, won't-he appeals process too, and the media circus that created.
In 2017 the Orioles stuck by Machado in April when he dangerously slid into Boston Red Sox second baseman Dustin Pedroia, injuring him and costing him three games on the sidelines. They stuck by him again just a few days later when Machado went on a profanity-laced rant while being interviewed after the game, swearing no less than nine times in less than 15 seconds. Then of course the Orioles gave Machado his wish at the start of last season, to play error-ridden baseball at shortstop instead of third base, in hope of boosting his market value come free agency – all at the expense of the team's balance. At the trade deadline, the front office sent him off to the Los Angeles Dodgers with their blessings and well-wishes of winning a World Series title. The organization, its fans, and the local media all publicly thanked him for his services and wished him only good things for the future.
Not only is Machado factually wrong, he actually couldn't be further from the truth when he says the Orioles didn't show him any love. It's quite the opposite in fact. All the organization ever did was protect him, have his back, and provide him with an environment which could help him thrive. The media was patient and avoided his often fiery temper, his manager allowed him to call his own shots and play wherever he choose, and the fans watched in awe, cheering for him for every night, ignoring the opinions of rival fans who disliked him.
The best thing Machado can do right now, other than shutting his mouth, is investing some of that $300 million he'll earn into a public relations specialist who can attempt to turn his reputation around. Because right now, it absolutely stinks.