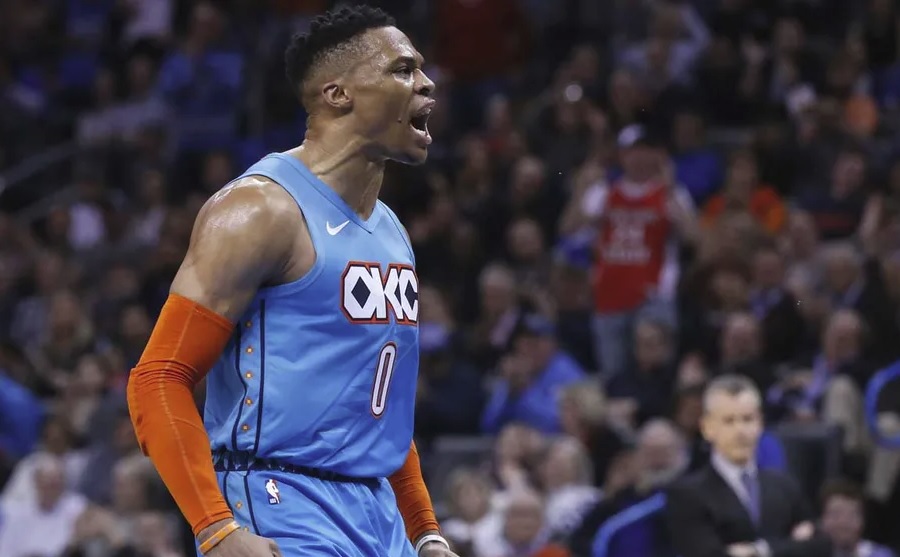 OKLAHOMA CITY – Russell Westbrook is amassing a statistical run for the ages. His hot streak has been scintillating and he's yet again put himself in the most elite of companies – standing side-by-side with the greatest of all time, Michael Jordan.
The relentless point guard finished with 16 points, 15 rebounds, and 16 assists, as the Oklahoma City Thunder overcame a halftime deficit to ultimately beat the Orlando Magic 132-122.
The stat-sheet stuffing Westbrook has undertaken these past seven games is quite remarkable, recording triple doubles in all seven games and averaging 20.0 points, 13.2 rebounds, and 14.4 assists during the streak. With their main man firing, it's not surprising the Thunder have won six of those encounters.
Here's a closer look at Westbrook's tallies:
Russell Westbrook has recorded triple doubles in his last seven games…

Pts – Reb – Ast
29 – 10 – 14
23 – 17 – 16
13 – 13 – 11
23 – 14 – 14
14 – 12 – 14
22 – 12 – 16
16 – 15 – 16

He now has 124 triple doubles in his 793 game career.#NBA⁠ #ThunderUp⁠ pic.twitter.com/uEByLzFFWY

— Dan Clark (@DanClarkSports) February 6, 2019
With 20 triple doubles on the season and now 124 throughout his 793 game career, Westbrook looks certain to surpass hall of famer Oscar Robertson who amassed 181 during his 14-season career between 1960-61 and 1973-74. Only Robertson and fellow hall of famer Magic Johnson (138) have more than Westbrook.
Of course it's the second time Westbrook has recorded seven consecutive triple doubles, having also achieved the feat late in the 2016-17 season. On that occasion, his streak ended against the Memphis Grizzlies after falling one rebound short, despite putting up 45 points on the night. The only others to achieve such a streak are Michael Jordan during the 1988-89 season and the all-time record holder, Wilt Chamberlain, who strung together nine consecutive games to close out the 1967-68 season.
Many will still remember that in 2016-17, Westbrook became the first player since Oscar Robertson in 1961-62 (and just the second player ever) to average a triple double. Then he did it again last season to prove it was no fluke.
Speaking on Westbrook's impact during the Thunder's recent point scoring surge, teammate Paul George said, "He is definitely the reason for that – he is the reason we have had the highest (offensive) months in Thunder history. I cannot say enough for the credit he deserves for our offense being at the level it is at."
Thunder coach Billy Donovan added, "He is such a hard guy the first six seconds, because you have to make decisions. Are you going to back off and kind of put three or fours guys in the box and try and prevent him from getting to the rim? Or are you going to try and protect three-point line and get the shooters? Basically he is taking what the defence gives him. When he can get to the rim, he's getting there and when the lane is clogged up he is finding guys open for shots."
Westbrook will look to extend his streak to eight games on Thursday night when the Thunder (34-19) take on the Grizzlies (22-33) – will history repeat itself?