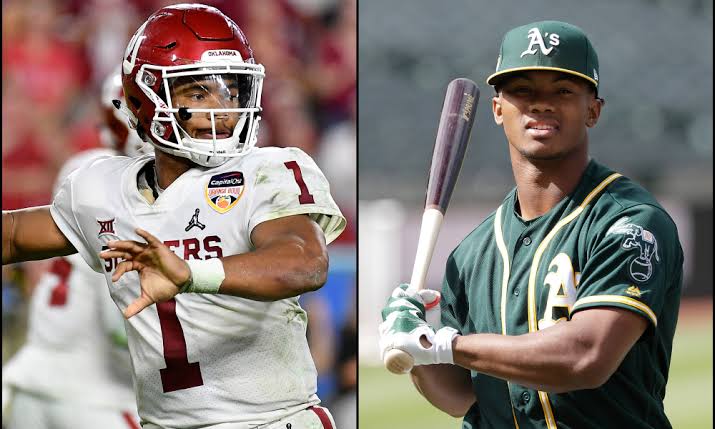 OAKLAND – It's that time of year again. Football is winding down, draft talks are heating up, and many of the nation's top college football talents are choosing to take that next leap of faith; the big leagues.
But one talent in particular must choose which "big league" he wants to play for. Oklahoma pitcher/quarterback Kyler Murray is involved in one of the most interesting dilemmas in sports today. Murray was selected 9th overall by the Oakland Athletics in the 2018 MLB Draft and signed a contract that includes a $4.66 million signing bonus. He has previously told Oakland that he plans to report to 2019 spring training after he finished his senior season of football at Oklahoma. Up until recently, everyone has looked at Murray as a very good college quarterback with an even brighter future in baseball. That narrative has now changed. The Heisman winning quarterback has seemed to draw interest from many NFL teams and has even been talked about as a potential first round pick. He has since declared for the NFL draft and has contacted the Oakland Athletics asking for a larger signing bonus. As a 21-year-old kid, this is a ton of information to process, and naturally created a huge decision that Murray now needs to make. Fortunately, the decision is simple; choose baseball.
Now many Kyler to the NFL proponents argue that if he is drafted in the first round, he will earn far more money in football than he currently has guaranteed in baseball. That statement is true, but let's look at some numbers. The average career length for an NFL player is about 3.3 years. The average career length for an MLB player is about 5.6 years. Now, I am well aware that these are hasty statistics and an NFL career is generally shorter because football is more physically tolling than baseball. But that only drives my point home even more: Murray is far too undersized to make it in the NFL. I have seen Murray's height listed as low as 5'9 and as high as 5'11. Either way, he is well under six feet tall and not even 200 pounds. Very seldom do you see an NFL quarterback have any success with a build like that. Yes, Drew Brees and Russell Wilson are outliers, but even they have been consistently listed over 5'11 and well over 200 pounds. These "outliers" were also not selected in the first round. The last smaller-framed quarterback taken in the first round of an NFL draft was Johnny Manziel (Baker Mayfield is 6'1/215 for those of you thinking I overlooked him). Although Manziel had many personal issues, he did not look good when he was on the field either. Saying that, it's safe to think that Kyler Murray is probably better than Manziel and has the talent to possibly play "bigger" than his build. But NFL scouts and general managers are well aware of his measurables and liabilities. Trends show that the majority of quarterbacks his size very rarely make it to a second contract.
Murray has at least $4.66 million already waiting for him in baseball, and all he has to do is show up. He could even earn more money from the Athletics if he finds a way to sway them into increasing his bonus if he stays in baseball. Many seem to forget that Murray is just as talented as a pitcher as he is a quarterback. After all, there is a reason why Oakland wants him to play baseball this bad. Although he will have to follow the due process of baseball and move around the minor leagues for a few seasons, it won't take long before he gets his shot in the show and he will more than capitalize. Murray's build is far more suited for baseball, and he is a competitor. Playing quarterback has made him a very coachable and forward-thinking pitcher, which is the perfect recipe for a pro ballplayer. This sets him at an advantage over many other pitchers and baseball players in general and, in my mind, gives him a higher probability (and payout) at a second contract than football.
Getting to choose between professional football and baseball is a "problem" that I think all sports fans would love to have, but the reality is that it is one of the most stressful decisions this young super-star will ever have to face. Once he chooses one, he is more than likely locked in for life, considering that a quarterback/pitcher would not be able to pull a Bo Jackson and play both sports. One could only imagine the mental debate Murray is having with himself at the moment, so I'll leave it at this: ignore the noise and the offseason draft jargon. Follow the numbers and baseball kid.