Aces Proving Doubters Wrong…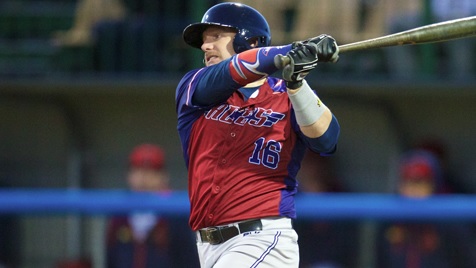 MELBOURNE – Despite so often being labelled as the sporting capital of Australia, frustrated baseball fans in Melbourne have been stared of success since the ABL was re-established in 2010/11.
Now in its ninth season, the city's pride and joy, the Melbourne Aces, possess the worst record of all six teams overall, have had just one winning season, have finished last three times, and have never won a championship. For too long the organization has battled with under-performing Asian imports and what can quite frankly only be described as an ugly bias when selecting local talent. These on field issues, coupled with poor returns off it, have often made the Aces the laughing stock of the League.
Under the recent guidance however of former big-leaguer Justin Huber, the organization has seemingly changed its ways and turned the corner. Despite a lack of consistency, there were some encouraging signs on display both on and off the field in 2017-18, and with the expanded League comprising of two additional teams ahead of this summer's action, the excitement among the ever-growing Melbourne baseball community was as strong as ever before.
An four-game Opening Series sweep of the Canberra Cavalry added to that excitement and after four weeks of action, the Aces sit on top of the South-West Division with an 11-5 record, tied with the Perth Heat. At home, the Aces have been nothing short of brilliant, winning seven of eight games and treating their fans to some truly dominant pitching displays. On the road, they're breaking even, splitting two challenging four-game series' in both Adelaide and Perth. With two teams from each division and a fifth wildcard team heading to postseason action this season, and Geelong-Korea languishing at 2-14, the Aces are well on the way to booking a postseason birth in hope of finally securing that elusive pennant.
Behind the success has been a pitching staff that has worked to a collective 2.85 ERA, most notably lead by a four-man rotation that has been absolutely lights out. Each of Dushan Ruzic (2-0, 17.0 IP, 0.53 ERA), Jack Enciondo (2-1, 20.1 IP, 2.21 ERA), former Twins minor leaguer Luke Westphal (1-2, 21.0 IP, 2.57 ERA), and Japanese import Hayato Takagi (2-0, 20.2 IP, 2.61) have performed remarkably well, often holding their nerve in pitching duels and pitching deep into contests. The bullpen too has been brilliant, with the trio of Phillies prospect Tyler Fallwell (0-0, 12.0 IP, 0.00 ERA), Japanese import Hiromasa Saito (1-0, 12.2 IP, 0.00 ERA), and Mariners minor leaguer Scott Kuzminsky (1-0, 10.0 IP, 0.00 ERA) astonishingly not allowing an earned run in 34.2 innings of work combined.
It's not just the pitchers doing the damage though, with six of the Aces' regular nine hitters owning averages well over .280 with OPS' nudging 1.000. The often criticized Ryan Dale finally seems to be putting it all together at the plate, hitting .350 with a home run and five RBI through 20 at bats, while Royals prospect D.J. Burt owns a .941 OPS with five extra-base hits and eight stolen bases. He is an excitement machine and someone the home fans have grown to adore, much like they did Ronald Acuna Jr. in 2016-17 who has since gone on to win MLB's prestigious National League Rookie of the Year Award. Former big leaguer Luke Hughes is also having a great season to date, slugging four home runs and knocking in 11 as his OPS sits at .971. Hughes' four dingers sits him one behind veteran Daryl George who has five in 60 at bats – all of which solo shots.
With all things pulling in the right direction and the roster looking more balanced than ever before, the city of Melbourne and its baseball fans have a quiet confidence that this season may finally bring home a championship come early February. Perhaps 2018-19 is the year the Aces go all the way and save us from more heartache? We can only hope…