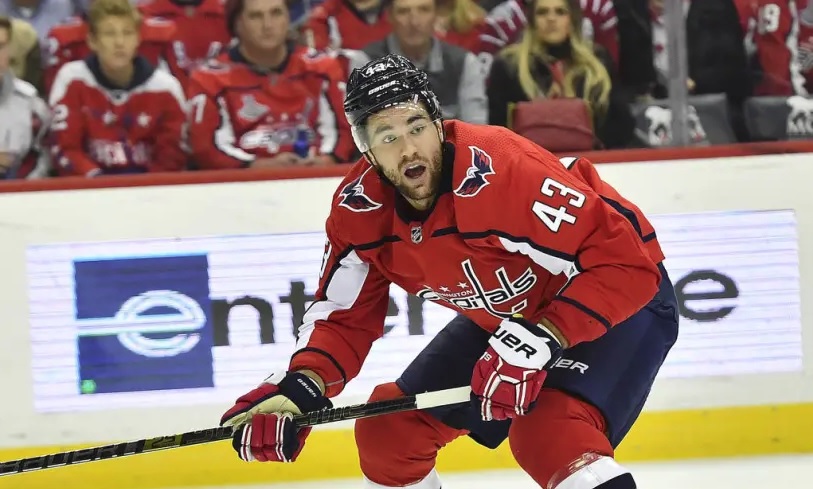 WASHINGTON DC – After a summer of celebration following the team's first Stanley Cup championship last June, the first 16 games of the Washington Capitals' 2018-19 season were full of frustration and lacking momentum.
A 7-6-3 record saw them languishing in unfamiliar territory outside of playoff position and the team had won consecutive games just once – against the Edmonton Oilers and struggling Pittsburgh Penguins in the first week of November. The team was lacking something and it desperately needed a spark.
While his teammates were struggling to find rhythm on the ice, big Tom Wilson was watching from the stands, serving out a 20-game suspension for an illegal head hit on St Louis Blues' Oskar Sundqvist during an early-October preseason game. Wilson appealed the suspension however it was to no avail, as NHL commissioner Gary Bettman upheld the ruling. Wilson though, always down for a fight, wasn't prepared to lose the battle and filed for a third appeal from a neutral arbitrator. He won that on November 13 and was given the green light to return four games earlier than expected. The ruling, by arbitrator Shyam Das, also allowed him to recoup $378,049 of the $1.26 million he forfeited as part of the suspension.
Upon return against the Minnesota Wild, Wilson immediately made an impact and almost had himself a Gordie Howe hattrick, scoring the Capitals' second goal of the game with a well directed tip-in and finding himself in a fight with Marcus Foligno. While the assist would ultimately elude him, the Capitals would go on to win 5-2 in what was a dominant display.
Since that night, the defending champions have won four of five games, including their last four – making it five of six since Wilson returned to the ice. And the big man? He's scored three times, collected eight points total, and laid some familiar big hits during this stretch. Quite simply, the imposing presence of the 218 pound, 6'4″ Canadian has had a massive impact on the team's fortunes, and his new-found offensive prowess has seen him attack the net harder than we've ever seen before and step up in the absence of the injured T.J. Oshie and Evgeny Kuznetsov.
Comparatively speaking, although the sample size this season is still small, his current 1.33 points per game average is almost five times higher than his 0.27 career mark before this current season commenced. He's well on the way to bettering the career-high 0.45 mark he achieved last season. Importantly, he is also contributing on the Power Play with two key assists, adding to just the three he'd had in his previous 391 games since debuting in 2013-14.
Typically modest and not buying into the hype, after Friday night's 3-1 win over the the Detroit Red Wings in the Nation's capital, when asked what's been the catalyst for the career-best six game stretch, Wilson simply responded, "I guess we'll just say I'm making up for lost time."  His teammates and coach however had much more to say, heaping praise on the 24-year-old.
"He's one of the leaders on the team. He bring energy, of course. He bring toughness, and I think when he's on the ice, the other team gets a little bit afraid because he's a big boy. He can hit, and right now you can see he's kind of like [Hall of Famer] Eric Lindros. He can play hard, score goals, make a good assist." – Alex Ovechkin
"If you look back a couple of years ago, he was a top pick in the draft. People maybe expected this side of him, not the other side." – Nicklas Backstrom
"You can obviously notice it [the impact]. The type of player he is, very responsible, high energy and is working hard in all situations. You can tell just in our defensive game from where it was, he has the ability to change a team that way. He's obviously chipping in offensively, too, but his complete game just brings energy, and it brings that level of accountability through our whole lineup because he shows it in himself." – Braden Holtby
"It certainly was a very difficult time for him when he wasn't playing, especially building on what he was able to accomplish last year on our team and fill in on that first line. And to have that taken away from you, that left a mark for sure. His response has been noticeable." – Coach, Todd Reirden
With Wilson back and making a massive impact, the Capitals have finally found some momentum and have surged back into second place in the Metropolitan Division. Better still, Kuznetsov and Oshie are both on the mend and expected to return after the Caps' upcoming two-game road trip to New York. Suddenly, the Caps look like the championship team of last June and are yet again the team to beat.