In a busy world where people are becoming increasingly time poor, many view the arts and sports as rivaling passions – competing for a share of peoples' precious leisure time.
Others though, pursue both simultaneously, like US sports fan Daniel Duffy who intertwines the two with unrivalled dedication and precision. The founder of Art of Words, Duffy combines his love of the arts and sports much to the delight of fans all over the globe who proudly display his work upon their household walls.
Duffy's latest masterpiece celebrates the 25th anniversary of Oriole Park at Camden Yards – home of the Baltimore Orioles and one of the most important baseball stadiums in history.
Opening in 1992 at a cost of $188 million, OPACY – as it is commonly referred to – is the first of the "retro" major league ballparks constructed during the 1990s and 2000s, and to this day is still one of the most highly praised. Baseball experts from all corners of the United States acknowledge that OPACY started a stadium revolution, with strategically positioned concession stands, incredible vantage points, and stamp of uniqueness – all the while still ensuring that much needed nostalgia and tradition was present.
Celebrating its 25 years, Duffy's phenomenal piece uses the names of all 1,046 players to represent the Orioles between 1954 and 2017, masterfully put together to depict a packed stadium on a gorgeous summer's day.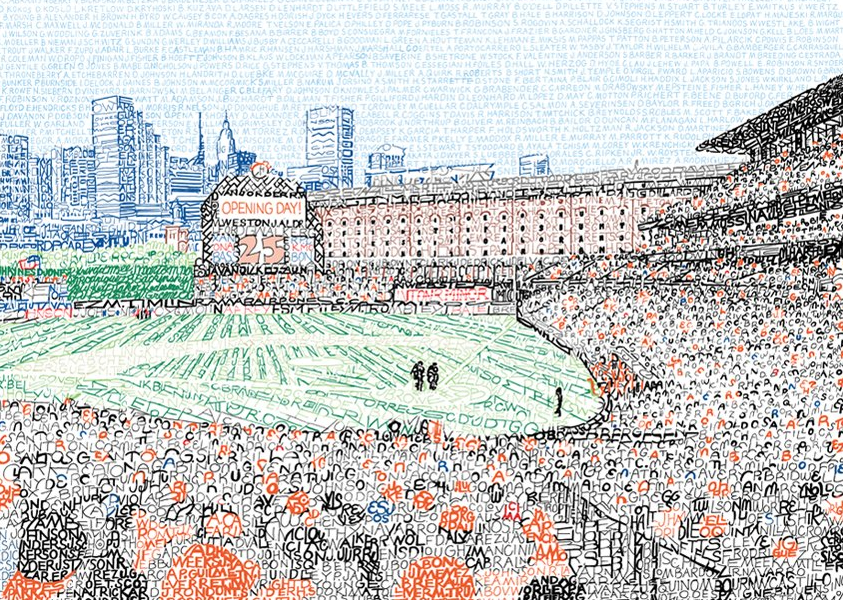 The piece took Duffy more than 70 painstaking hours to create over a period of two weeks. More than five of those hours were spent simply planning – finding the right angles, completing some rough sketching, and figuring out how he could work the names into the stands, skyscrapers, warehouse, etc. In addition to this, the research he had to undertake to compile the list of every Orioles player in history was extensive.
Since releasing the piece over the weekend, Duffy has enjoyed significant exposure on social media, with more than 500 users retweeting his work and the Orioles sharing it via the team's Instagram account.
FINISHED! Introducing the Camden Yards word art – Handwritten with the names of every Baltimore Oriole player in history – Happy 25th Anniversary! pic.twitter.com/uuW4uiFMEc

— Daniel Duffy (@RealArtOfWords) December 1, 2017
To purchase this print or to view all of Duffy's other incredible work, visit his portfolio at www.artofwords.com.