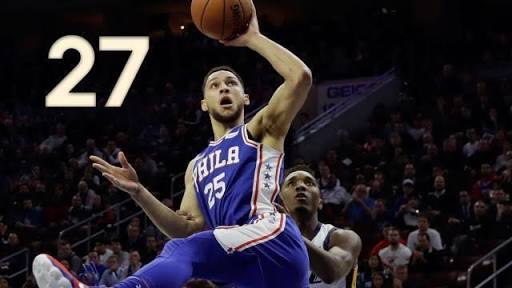 Ben Simmons' hot start to his NBA career has continued into its second month, with the 21-year-old Australian helping the resurgent Sixers to a 9-7 record following a strong 107-86 win over the Jazz Monday night.
Simmons put up a career high 27 points, pulled down 10 rebounds, and collected four steals as the Sixers lead all night on the way to their ninth win in 13 games.
Now 16 games into his rookie season, the 6'10 point guard is quickly becoming a stat-sheet stuffing machine, averaging 18.7 points, 9.2 rebounds, and 7.6 assists per game – numbers which are far above any other rookie in the NBA.
Through his first 16 games, Simmons is yet to be held below 11 points and on nine occasions he has reached double-digits in the rebounds column. Of course, he has also picked up two triple-doubles during this stretch, the only two ever recorded by an Australian in the NBA.
While his talent has always been on display, it is his improved levels of consistency which is really gathering the limelight. Together with JJ Redick, Robert Covington, and Joel Embiid, Simmons is leading a resurgence in Philadelphia which fans have been desperate for ever since the team last reached the playoffs back in 2011-12. In the years since, they've had to sit through painstaking lows, none more so than the disastrous 2015-16 campaign where the team won just 10 games (10-72).
The 9-7 record is good enough for seventh place in a strong Eastern Conference where nine teams sit at .500 or above. With four home court match-ups against the Trail Blazers, Magic, Cavs, and Wizards over the next eight days though, the Sixers will look to push themselves further up the standings either side of Thanksgiving.