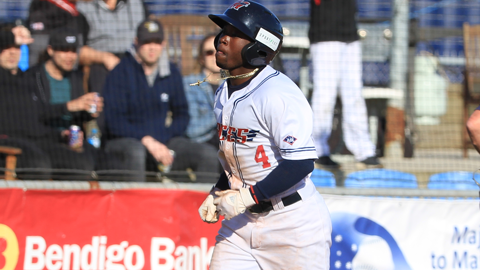 MELBOURNE – The Melbourne Aces have started the 2018-19 Australian Baseball League season in phenomenal style, sweeping aside the Canberra Cavalry in a 4-0 Opening Series drubbing at Melbourne Ballpark.
After a thrilling come-from-behind Opening Night win, the Aces rode that momentum all weekend long, largely thanks to some dominant pitching displays which saw the visitors score just five runs in 34 innings.
There were plenty of strong performers on the mound over the weekend, with Hayati Takagi and Dushan Ruzic each allowing just one run threw seven innings apiece, and 21-year-old Jack Enciondo tossing six scoreless in Sunday's series finale. Tyler Fallwell also fared well coming out of the bullpen, working through 3 1/3 scoreless innings relief over two appearances. The Aces' relievers collectively allowed just two runs all weekend, tossing 9 1/3 innings.
Offensively, Garrison Schwartz and Jake Romanski each collected five hits, with Schwartz collecting seven bases total. Former big leaguer turned Aces front office staffer Luke Hughes also had a strong weekend with two home runs and a double, knocking in five. Off the 11 hitters used over the four games, 10 hit safely, while the aggressive running on the basepaths was also a highlight – with seven stolen bases total, four of which courtesy of Kansas City Royals infield prospect D.J. Burt.
Other keys to the series sweep included:
Troubled in previous seasons by poor defense, the Aces committed just one error all weekend, that by third baseman D.J. Burt on Friday night.
The lineup made the most of their chances over the weekend, collectively hitting .344 (11-for-32) with runners in scoring position.
The infield turned four double-plays over the weekend, all of which at times when the Cavalry appeared to be mounting a challenge.
The impressive weekend sees the Aces move into a share of first place in the ABL's South-Western Division, with the Perth Heat also winning all four games against the struggling Auckland Tuatara in Perth. Next weekend the Aces hit the road, travelling to Adelaide to face the bite on Thursday night, Friday night, Saturday night, and Sunday. The Bite will be looking to bounce back after a tough weekend facing the Brisbane Bandits where they lost three of four.