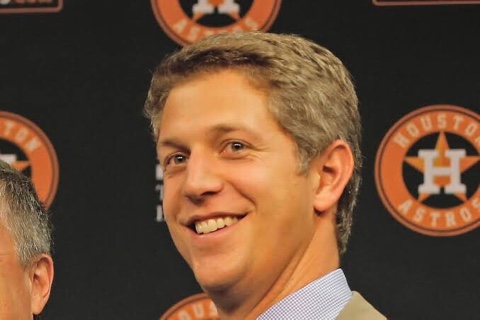 BALTIMORE – In what would be the first big move of the Baltimore Orioles' crucial off season, where the organization embarks upon an enormous rebuild, Mike Elias appears almost certain to fill the General Manager position vacated by Dan Duquette.
Late Tuesday night, USA Today's Bob Nightengale all but confirmed what many within Baltimore already expected when he tweeted that barring a sudden change of heart, 36-year-old Elias will be the Orioles' new General Manager. The tweet, which is the most confident yet from a national reporter, adds to speculation from TBLDaily.com writers last week that Elias will be hired for, arguably, the biggest challenge in all of baseball.
Growing increasingly confident that the #Orioles will hire Mike Elias.

— Dan Clark (@DanClarkSports) November 10, 2018
Houston #Astros assistant GM Mike Elias, barring a sudden change of heart,will be the new GM of the Baltimore #Orioles

— Bob Nightengale (@BNightengale) November 14, 2018
MASNsports, via beat writer Roch Kubatko, also tweeted on Tuesday that the Orioles were set to announce their first front office hire later this week. In light of Nightengale's insight, it now seems that the announcement could be of Elias' hiring.
Should Nightengale's report be accurate, it would prove to be a great signing from the Orioles who have spent many weeks methodically assessing numerous candidates, before shortlisting and conducting interviews. Others reportedly in consideration for the General Manager role included Scott Sharp, Kim Ng, Ned Rice, David Chadd and Ben Cherington among others. Undoubtedly, the list of experience and knowledge up for consideration was significant.
To beat such a strong list of candidates speaks volumes about Elias, who's history in the major leagues dates back to 2007 when he started out as a Scout with the St Louis Cardinals. A promotion in 2010 saw him responsible for the signing of several major league players and he contributed to the development of a scouting department and draft process that supported one of baseball's best farm systems.
In 2012 Elias moved to Houston, taking on a Special Assistant to the General Manager role where he played a crucial role in selecting Carlos Correa with the first overall pick. His success didn't stop there though, with a further eight major league players being developed under his watch, including 2018 All-Star Alex Bregman. He was also instrumental in building the organization's highly ranked farm system, and in 2016 was promoted to the Assistant General Manager role.
In his 12 years within major league baseball, Elias has already experienced World Series success twice, within the Cardinals organization in 2011 and then again with the Astros organization in 2017. On each occasion, his work played a vital role and he would bring to Baltimore a modern approach as well as an appreciation of what it takes to create a champion organization from the ground up. Strategies which he would bring a renewed focus to include further exploration of the international market, an increased expenditure in analytics and technology, increased investment into scouting and player development, and improving the Orioles' numerous training facilities. It's hoped that under Elias' guidance, the Orioles could one day return to being one of baseball's better run organizations. Right now, they're at the bottom of the pile and desperately needing a new approach from their recent stale, old ways.
For Elias, should he in fact be hired by the Orioles to the General Manager role, the sky is his limit. John and Lou Angelos have publicly stated numerous times that whomever is appointed to the role will have a level of freedom afforded to them unlike any other past General Manager under the Angelos' ownership regime. The opportunity exists to truly make a mark, and for a first-time General Manager, nothing can be more appealing than that.