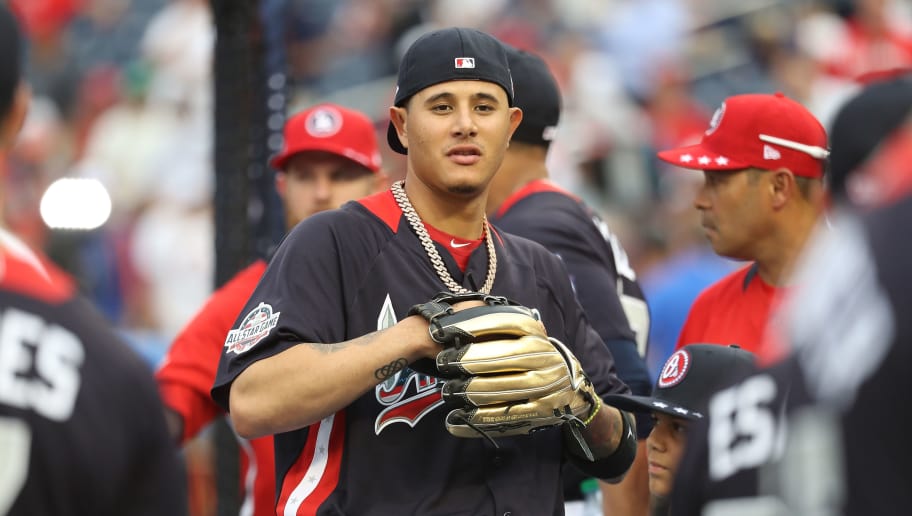 NEW YORK – Welcome to MLB Free Agency – that wonderful time of the year where rumors circulate wildly, the hopes and dreams of fans are fulfilled or dashed, and star players typically set themselves up for life.
This year it's no different. In fact, this year is arguably more exciting than many previous given two of the biggest names in baseball have hit the market and are on the lookout for a new home.
One of those is 26-year-old outfielder Bryce Harper and the other is also 26-year-old infielder Manny Machado. Both are supremely talented, both divide opinion with their antics, and both will significantly boost their future homes' chances of World Series success.
In the case of Machado, he is coming off a career season offensively, where he hit .297/.367/.538 and knocked in 107 with the Baltimore Orioles and Los Angeles Dodgers combined. Defensively though, while still capable of truly miraculous plays, his -13 DRS at shortstop highlighted some struggles, something which he was not banking on when requesting the move across from third base at the start of the season. In addition to his mediocre defense at shortstop, Machado's form in the second-half of the season dipped considerably and he struggled in the postseason – from both a performance and behavioral perspective. Despite these concerns, his talent and potential are undeniable, and he is still expected to earn a huge payday this winter, somewhere in the vicinity of $250-$350 million over a period of eight to 12 years. They're staggering figures, but certainly ones which multiple teams will be willing to pay to secure his services. The question is, who will be the highest bidder?
Philadelphia Phillies
With the ability to play either third base or shortstop, Machado would be a perfect fit for the Phillies roster which has a need in each of these positions. He would add a key bat to the middle of a lineup which already includes the likes of Rhys Hoskins (25), Carlos Santana, Odubel Herrera (26), and Maikel Franco. Also of note, Machado is the same age as Herrera and Franco, while being just a year older than Hoskins. Add to that young pitchers Aaron Nola (25), Zach Eflin (24), and Vince Velasquez (26), and suddenly the Phillies are right in contention for a number of years.
The Phillies have already shown they're interested in Machado and are also going to explore Harper. While they won't land both, they certainly want to land one. The biggest concern with Machado is his attitude, however as General Manager Matt Klentak noted recently, "If you're trying to find the young free agent who's good at everything and a prince in the clubhouse, you're going to be looking for a long time. You're not always going to find somebody who checks off every box." Perhaps this is a subtle little hint as to the way in which they're heading?
Los Angeles Dodgers
With 24-year-old shortstop Corey Seager returning from injury next season and veteran third baseman Justin Turner continuing to produce impressive returns, the Dodgers' infield starts to look a little crowded when Machado's name is added to the mix. On face value, there doesn't appear to be an overwhelming need for Machado, however the Dodgers' roster is versatile and I could see a situation where Seager returns to shortstop, Turner shifts to first, and Machado resumes duties in the hot corner. In this situation, Cody Bellinger plays center field and Max Muncy learns to play left field. That's a formidable lineup.
While Machado didn't achieve the ultimate success of winning a World Series with the Dodgers, he did make it clear he thoroughly enjoyed the second-half of the season and the postseason run in LA. Some have speculated that there are concerns within the organization about his attitude – specifically his lack of hustle, however President of Baseball Operations Andrew Friedman cleared that up yesterday when noting, "I think that in and of itself isn't as critical of a dynamic as it would be if he didn't care, if he didn't put in the work, didn't put in the effort, and that in our three months of being around him was really strong." It seems the Dodgers are interested.
New York Yankees
Having just watched arch-rival Boston Red Sox win the World Series, it seems inevitable that the Yankees will make a serious run at Machado – especially as it becomes more and more evident they're not interested in Harper. There's a need too, with shortstop Didi Gregorius out for at least the first-half of the season and concerns continually lingering about the defensive abilities of Miguel Andujar. Adding Machado to a lineup that already includes the power of Aaron Judge, Giancarlo Stanton, and four others who hit 24 or more home runs last season, and suddenly we're talking about – potentially – the most dangerous line up in baseball history.
After staying under the luxury tax threshold in 2018, the Yankees are ready to spend again in chase of their 28th World Series title – something they haven't won now for nine years. They absolutely do not want to have their season determined by a wildcard game again and spending big this winter could help ensure that fate is avoided. They will target Machado, and also hope to boost the rotation and bullpen. It seems the Yankees are primed to go for the jugular.
Chicago White Sox
The White Sox have the second-lowest payroll commitment of all MLB teams in 2019 and undoubtedly have money to spend. In addition to this, the current face of the franchise, Jose Abreu, is entering his final season and the ballclub desperately needs to find a new hero. It's been a pretty rough decade on the south side, having not made the postseason since 2008 and having now experienced six consecutive losing seasons. The team desperately needs a spark and the fans need something to bring them back to the ballpark – Machado could be that man.
The farm is full of promise, ranked third overall, however the current roster needs some work. Tim Anderson is a reliable young shortstop however lacks consistency, while third baseman Yolmer Sanchez produced a mediocre .678 OPS last season. Machado would be a significant upgrade at either of these positions, most likely landing in the hot corner. The White Sox were keen on securing him at the trade deadline last summer however missed out to the Dodgers when unwilling to part ways with some of their best young arms. That interest hasn't died off and according to some sources, is even greater now.
Los Angeles Angels
While not as likely as the other teams above, the 'other' LA team may be a wildcard in the race to sign Machado, and if they were able to pull it off, would become instant challengers next season. Keep in mind also that they have proven in the past they're willing to drop big coin on a big name hitter. With the likes of Mike Trout and Shohei Ohtani already on the team, it would be quite remarkable to see Machado potentially become the third biggest name on the roster, however that's a reality which may well do his attitude and performance wonders.
Of course the ever-impressive glove of Andrelton Simmons would remain at shortstop, however there's certainly a need for an everyday third baseman, with the current options – Taylor Ward, David Fletcher, Zack Cozart, and Kaleb Cowart – each not having remarkable seasons in 2018. Adding Machado into the mix, to join Trout, Ohtani, Simmons, Albert Pujols, and Justin Upton, would create a line up which is fun to watch, however I feel the Angels must also weigh up spending big on a pretty ordinary rotation that didn't have one pitcher win more than 10 games last season.
Others
Other teams reportedly interested in making a run at securing Machado include the Miami Marlins, Atlanta Braves, and Washington Nationals.