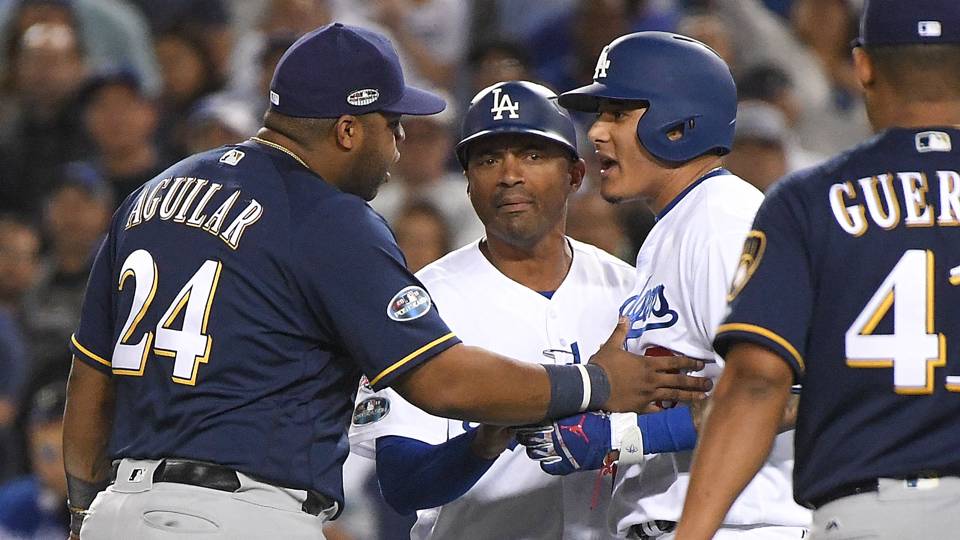 LOS ANGELES – While the LA Dodgers outlasted the Milwaukee Brewers in 13 nail-biting innings to level the NLCS 2-2, it was Manny Machado who stole the headlines.
The Dodgers' third baseman created headlines for all the wrong reasons yet again, when in the bottom of the 10th inning, he appeared to kick/spike the foot of Brewers' first baseman Jesús Aguilar while running out a ground ball to shortstop. Soon enough, the two were jawing and the dugouts emptied.
It comes after an incident earlier in the night were the 26-year-old, 4x All-Star signaled for time, despite Brewers' pitcher Corbin Burnes having already started his delivery. Machado watched a third called strike and despite all wrongdoing resting with him, he proceeded to bark at home plate umpire Hunter Wendelstedt.
Then of course last night, in Game 3 of the NLCS, Machado created headlines with what can only be described as a questionable slide into second base which resulted in an interference call.
The Brewers, understandably, are seething – and quite frankly sick of the continuing controversies which Machado manages to find himself in the thick of, time and time again.
"He's a player that has a history of those types of instances. One time's an accident, but over and over and over again  – you're just a dirty player. A dirty play by a dirty player. It absolutely is. I have a lot of respect for him as a player, but you can't respect someone who plays the game like that." – Christian Yelich
Such strong words coming from Yelich, who is one of the game's most well-liked and respected players both on and off the field, are significant, especially when considering that the two hadn't played in the same League prior to July this year. Yelich's awareness of Machado's past indiscretions highlights just how much of a reputation he has created for himself as a result of the growing list of controversies.
June 27, 2013 – After being called out on strikes against the Cleveland Indians, Machado argued the call with home plate umpire Will Little. He was ejected for the outburst, the first ejection of Little's big league career. Replays later confirmed Little made the correct call.
June 7, 2014 – While running to third base on a ground ball, Machado was tagged by the Oakland Athletics' Josh Donaldson. Believing a 'hard tag' was applied, Machado reacted strongly, leading to a bench-clearing brawl.
June 8, 2014 – On the follow-through of his swing, Machado stuck Athletics' catcher Derek Norris on the head with his bat, resulting in Norris leaving the game immediately. Later in the game, Machado threw his bat in the direction of third base in response to two consecutive inside pitches thrown by Athletics' reliever Fernando Abad. Both Abad and Machado were ejected, with Machado being fined and suspended five games for his actions.
May 28, 2015 – After being deemed to have gone around on a check swing and striking out against the Chicago White Sox, Machado threw his bat down in disgust and argued the call with home plate umpire Toby Basner. He was immediately ejected.
March 30, 2016 – Despite being a meaningless Spring Training game, Machado argued a called third strike call on a Shane Greene fastball which ran straight down the middle of the plate, leading to an ejection from home plate umpire Joey Amaral.
June 7, 2016 – After being hit in the back by a 99mph fastball from Kansas City Royals' pitcher Yordano Ventura, Machado charged the mound and punched Ventura in the face. Again, his actions initiated a bench-clearing brawl and he was suspended four games.
April 21, 2017 – A controversial slide into second base by Machado, which divided opinion, left the Boston Red Sox's Dustin Pedroia sidelined for three games after being spiked in the leg.
April 23, 2017 – Red Sox pitcher Eduardo Rodriquez intentionally threw at Machado's knees, narrowly missing each time. Later in the game, reliever Matt Barnes threw a pitch which narrowly missed Machado's head. Barnes was ejected and suspended four games.
May 2, 2017 – Red Sox pitcher Chris Sale threw a pitch which narrowly missed Machado's head, resulting in an extraordinary, foul-mouthed rant from Machado in his post-game interviews.
While each of these incidents brings with them differing versions of events and varying degrees of blame being shared by the parties involved, it's becoming increasingly hard to ignore the fact that trouble continues to find Machado, or he continues to find it. For such a wonderfully talented player, it is such a shame that his success is continually being overshadowed by these controversies. If he wants to be remembered as one of the game's true greats, and there is no denying he has the ability to end up this way, he really must learn to rid himself of this reputation and reduce the blemishes on his rap sheet.