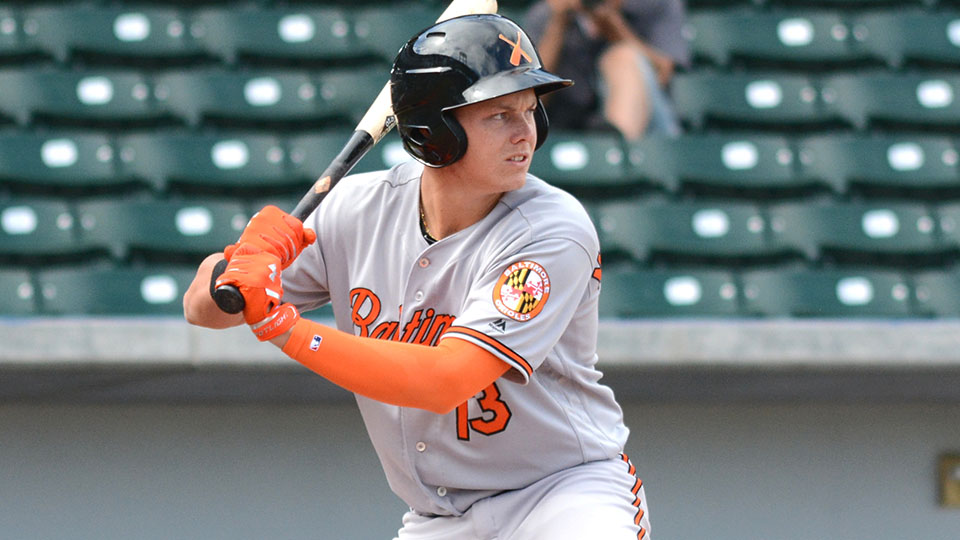 BALTIMORE – For emotionally drained Orioles fans, the month of September and its expanded rosters is hoped to provide some respite.
In what has been a truly horrendous season, one of the worst in franchise history at 37-90, fans are clinging to hope that some of the youngsters set to see major league action for the first time in the season's final month show some spark. The list of prospects set to receive their first big league call-up is somewhat unknown, yet may be extensive as the Orioles embark on a full rebuild. Despite some mixed performances from the organization's top prospects, now is as good a time as ever to see what these guys are made of. Are they going to be able to cut it under the bright lights of big league ballparks? Set to take at least three or four seasons, this is the first time for some years that the sole focus of the organization down the stretch will be on the its future, rather than the present.
Below is a list of 11 prospects within the Orioles organization which may fulfil their big leagues dreams down the stretch.
Hitting
24-year-old D.J. Stewart has had a mediocre season, however is still highly speculated to receive a call-up. Drafted by the Orioles 25th overall in 2015, Stewart experienced a slow start to his professional career however has made significant changes to his stance, removing the over-exaggerated crouch in a bid to improve his production. His swing is more fluid, better incorporating his hands and wrists, however his numbers still haven't reached a level expected of a first round pick. In 2018 he owns a lacklustre .722 OPS in 389 at bats with the Triple-A Norfolk Tides, a drop of over 40 points from his career mark. Weighing in at 230 pounds, the kid understandably has some pop and has slugged a team-high 12 home runs. He is also very patient and when on base, poses a genuine speed threat, however will he blossom into the powerful star the organization had once hoped? Defensively, there are also doubts with a shaky glove and below-average arm.
Another outfielder, Mike Yastrzemski, may benefit from having his bat heating up at the right time. The recently turned 28-year-old outfielder has hit three home runs in the last week and owns a .812 OPS with the Tides through 282 at bats after spending a short amount of time with the Double-A Bowie Baysox. The grandson of Red Sox great Carl Yastrzemski, Mike has played 652 games in the organization's minor leagues after making his debut in 2013 Highly touted, admittedly hype because of his surname, he's hit just .260 with 60 home runs and 332 RBI in the six years since. Despite the moderate returns, now seems as good a time as any to see how he fares in the big leagues – there's no harm in trying.
Infielder Ryan Mountcastle has been one of the most promising Orioles prospects for some time now and fills fans with hope. Like Stewart, also selected in the first round of the 2015 MLB draft, Mountcastle was, and remains a natural hitter, with a quick bat and plenty of pop. A career .289 hitter through four minor league seasons, the 21-year-old has had a very good season with the Baysox, hitting .298 with 12 home runs, four triples and 17 doubles. He is mature beyond his years and has maintained his outstanding pitch recognition. While some continue to express doubts over his defensive ability, specifically the strength of his arm, he has improved in this department in recent years and appears better suited to third base than shortstop. His returns alone show he is deserving of an opportunity.
Yusniel Diaz, the 21-year-old Cuban outfielder who arrived in Baltimore as part of the Manny Machado trade, is overcoming a slow start with the Baysox, heating up in recent weeks with four home runs. His .698 OPS, on face value, looks concerning, however it is rapidly rising and we're starting to see the tools which make him one of the organization's most exciting prospects – number one in fact. Debuting in the Dodgers organization just three seasons ago, Diaz owns a .790 career OPS and prior to that, has proven himself among men in Cuba's top league, winning Rookie of the Year honors in 2014-15 before defecting that April. Diaz's lack of power was once the biggest concern of his game, however some slight adjustments have resulted in more power, as demonstrated by his pair of home runs in this year's All-Star Futures Game.
Drew Dosch, the 26-year-old infielder who has now spent five years in the minor leagues, has had a solid season with the Tides, owning a .750 OPS with seven home runs, 22 doubles, and a triple. Dosch appears to have overcome the struggles he experienced in the each of the 2015 and 2016 seasons with the Baysox and has put his name in contention for a call-up after two solid seasons with the Tides. A gap power hitter, Dosch has racked up 117 doubles in five minor league seasons and in the hitter-friendly American League East ballparks, this could result in a boost in home runs. The first of Dosch's two biggest negatives is his free swinging, drawing few walks and striking out with regularity. Obviously this poses a concern in an Orioles lineup already full of free-swingers. Defensively, Dosch has some room for improvement, needing to tighten things up, cutting down the errors.
Garabez Rosa, despite now being 28-years-old, is likely to have a heap of younger prospects ahead of him in the pecking order, however is just as deserving of an opportunity in the major leagues. With little to gain on the season, it would be wonderful to see the Orioles reward the longest tenured player in the organization with a big league debut. Since debuting 12 years ago, Rosa has collected 1,267 hits in 1,269 games, hitting to a respectable, if not outstanding .270 average. Dependable defensively, the infielder has compiled another solid season with the Tides, hitting .273 with 10 home runs, 19 doubles, and 51 RBI.
Pitching
The big-framed, left-handed pitcher John Means owns a 3.65 ERA through 145 1/3 innings of work across Double-A and Triple-A this season in what has been the 25-year-old's best season to date. A real workhorse, at Norfolk in particular he has impressed, proving to be dominant against left-handed hitters. Unsurprisingly, the key for Means is to get ahead in the count where he can then utilize his increasingly effective low-90s fastball, of which he has above-average command, his changeup, which sits about 10 mph slower, and curveball, which is a slow-moving breaker with decent depth. While his stuff isn't the most impressive you'll see at minor league ballparks, his command of all three pitches is and that may be enough to see him develop into a solid back-end rotation guy.
Josh Rogers, who was acquired by the Orioles from the New York Yankees as part of the Zach Britton trade, has impressed since arriving, owning a 2.08 ERA through his first five starts (30 1/3 innings) with the Tides. A talented 24-year-old lefty with a four-pitch arsenal consisting of a low-90s fastball, slider, curveball, and changeup, Rogers has progressed through the minor leagues quickly on the back of some excellent performances. The 24-year-old owns a career 3.07 ERA through four minor league seasons and has a 30-20 win/loss record – he's a real competitor who keeps his team in games. His strength has always been his command, of all four pitches, something which the Orioles' brainstrust loves, especially being a lefty. His weakness? His splits against right handers
Keegan Akin has spent the entire season with the Baysox, appearing 23 times with which has yielded an eye-catching 14-6 record. His 2.77 ERA through a team-high 130 innings has impressed, as have his 135 strikeouts. Still young, just 23, and limited on experience, the Orioles may still want to have a look at the big lefty who is now developing ahead of schedule, really excelling since a change in heel placement on the mound. His fastball, which tops out at 96 mph, is well-controlled and his secondary offering, an above-average low-80s slider, is potent in the minors. His changeup is forever improving and his three pitch arsenal could see him become a reliable big league arm. Orioles scouts rave about Akin's simple yet effective action, and his willingness to challenge hitters, attacking the inner-half of the plate.
Luis Gonzalez, the 26-year-old who was signed by the Phillies way back in 2010, has struck out 78 hitters in 66 innings of relief this season with the Tides and Baysox. Further, he has an impressive 2.59 ERA and 1.14 WHIP to put up next to it. The left-handed Dominican has only started to deliver on his potential in recent seasons since making a move to the bullpen, having initially been tried as a starter by both the Phillies and Orioles without much success. Despite his poor command at times, he possesses a nasty upper-80s slider and mixes it in well with a mid-90s fastball and solid changeup. Dominant against right-handers in recent years, Gonzalez has experience beyond his years and could prove to be a reliable arm in an Orioles bullpen which is leaking runs.
Branden Kline has come a long way since being drafted by the Orioles in the second round of the 2012 MLB draft, overcoming a string of season-long injuries in both 2016 and 2017, after missing most of the 2015 season prior to that. Resilient and fiercely determined, Kline has put together a fantastic 2018 season after missing a staggering 59 months of baseball, working to a 1.61 ERA through 40 relief appearances across Double-A and High-A. When healthy, Kline possesses a lethal fastball-slider combination, especially against right handers, with his fastball topping out in the high-90s. This combo makes him an ideal bullpen arm. His weakness? Command. Something which requires refining, yet sure to come as he continues to develop after a lengthy layoff.