Incredible Capitals Surge To Stanley Cup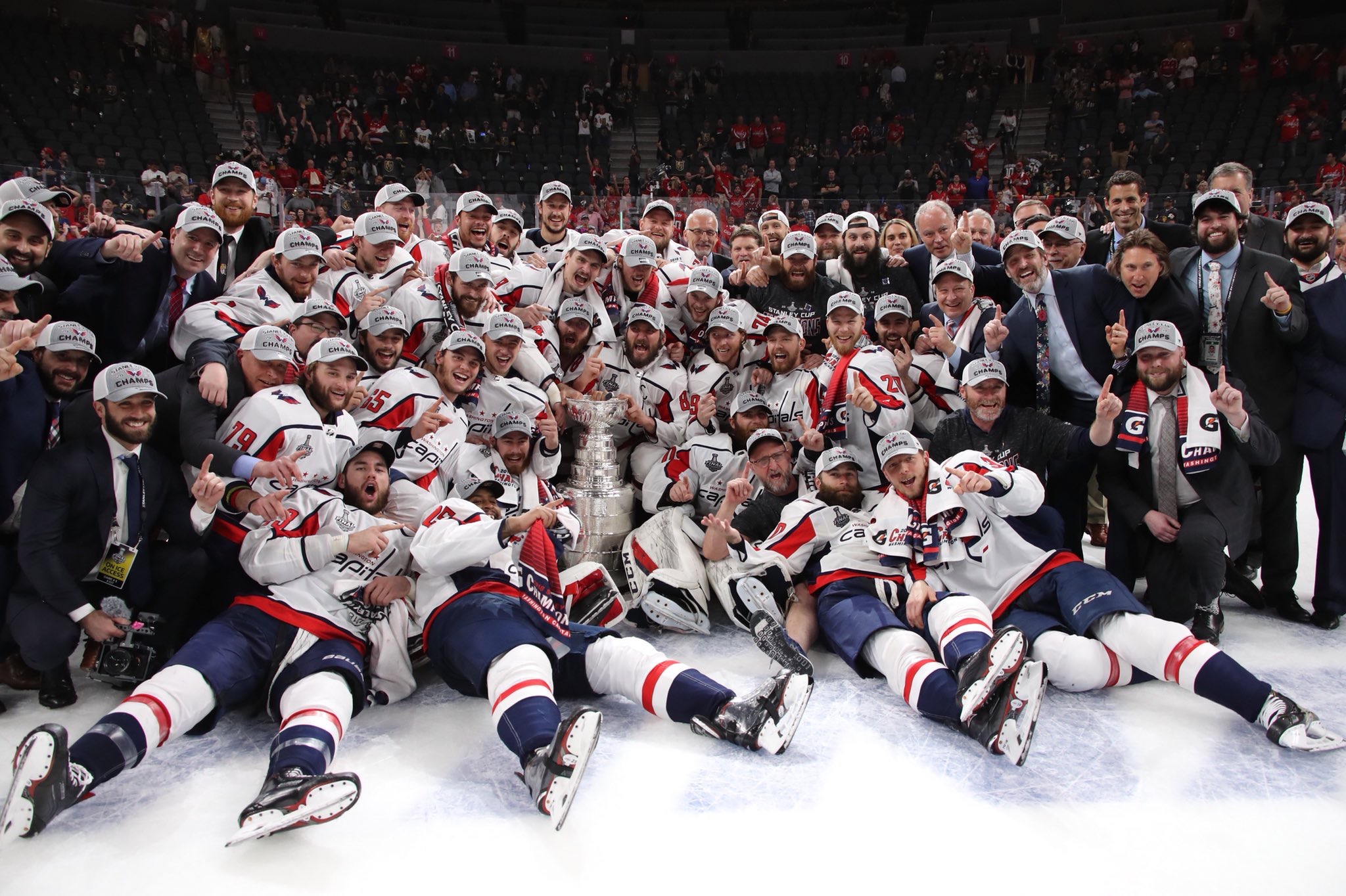 LAS VEGAS – After more than four decades of heartache, tonight Washington Capitals fans all over the globe can rejoice – the pain has subsided.
Finally, the Washington Capitals have won it all. Finally, they are Stanley Cup Champions.
Following yet another fantastic regular season, which saw the team win its third consecutive Metro Division title, Barry Trotz's men have put to bed countless playoff heartaches and silenced their most vocal of critics with a stirring, emotional, and incredibly gutsy performance, beating the Las Vegas Golden Knights in the Stanley Cup Final, four games to one.
Since dropping the first two games of their opening round match-up against Columbus, this determined group of men, hell-bent on proving their doubters wrong, has fought back with a level of resilience and resolve rarely seen, scratching and clawing their way past Columbus, arch-rival and playoff nemesis Pittsburgh, the highly-fancied Tampa Bay, and finally the NHL's love-child, Las Vegas. Tested countless times since the playoffs began almost two months ago, the Capitals have responded with an unrivalled level of class and confidence every occasion. Be it overcoming the slow start against Columbus or winning Game 6 and 7 with shutout performances against Tampa Bay, this team had no fear and the fairytale seemingly grew in stature nightly – win, after win, after win. In the end, everyone watching had the sense that it felt right. All the stars finally aligned.
Alex Ovechkin was enormous throughout the entire playoff campaign, scoring 15 goals on his way to 27 points, while Evgeny Kuznetsov took his game to the next level – a level the entire hockey world knew he was capable of achieving, yet previously still waiting to see. His 32 points (12 goals) led all others these playoffs, setting up tallies with apparent ease on the back of some truly remarkable plays, typically oozing a level of class that Kuznetsov has become renowned for. The Russian duo was well supported by a host of familiar names, names which have experienced the heartache and ones which were ready to change the script this time 'round. Nicklas Backstrom was at his creative and opportunistic best, collecting 23 points with five goals, while T.J. Oshie's offensive returns produced 21 points (8 goals) and his increasingly physical style of play added a much-needed toughness to a team once too reliant upon Tom Wilson to shake things up. John Carlson capped off the best season of his career, collecting 15 helpers and five goals and remaining ever-solid in defense, while Wilson also chipped in with five goals and 10 assists. Lars Eller, who at times alternated between villain and hero, finished the playoffs with 18 points next to his name – none more important than the game-winning goal in Game 5 of the final. With a little more discipline he could become one of the most important cogs in the Capitals' wheel next season and beyond.
In total, 22 different Capitals found their names on the scoresheet throughout the playoffs, with the level of depth and productivity of each line proving a real determining factor in the team's success.
Alongside Carlson defensively, Christian Djoos, Matt Niskanen, Michal Kempny, and Dmitry Orlov were all tremendously solid throughout the playoffs, while the wise old head of Brooks Orpik provided a level of calmness and reassurance under pressure that has rarely been seen in DC. No longer would the team show signs of vulnerability or crumble under pressure. Instead, it kept to its structures, remained committed to Trotz's game plan, and constantly showed levels of desperation in blocking shots and laying hits which were unmatched by any of the team's four playoff opponents. They were more desperate, more willing, and more hungry than ever before, and it showed.
While the offensive prowess and defensive desperation was of huge importance, the true star of the show these playoffs was Braden Holtby between the pipes who returned his name to the top of the NHL's goaltending pile. It's hard to believe looking back now, however Holtby was so badly out of form at the end of the regular season that he had lost his place in the team to Philipp Grubauer for the opening two games of the Columbus series. After two consecutive losses, Trotz made the switch and as they say, the rest is now history. That history will read kindly towards Holtby for those looking back in years to come, with Number 70 finishing the playoffs with a 16-7 record, a 2.16 goals against average, and a .922 save percentage. Not only are these numbers reflective of the massive improvements made during the playoffs compared to the regular season, but they are also well above his career marks. To say he lifted for these playoffs is an understatement. More accurately, it would be fair to say he played some of the best hockey of his career – routinely making the impossible, possible, none more so than his phenomenal game-saving save in Game 2 of the final.
Performing on all levels consistently throughout the playoffs, and at times, admittedly having a little bit of luck go their way, the Capitals have finally managed to gel together when it mattered most and played their best hockey of the season during the months of April, May, and June. The reward is something that success-starved fans from the Washington DC and surrounding regions will treasure for a lifetime, as seen by the truly chaotic scenes downtown in DC tonight. For the fans, the night and the ow enormous weekend ahead is not just about celebrating the unrivalled success this season has brought with it, but it's an opportunity to reflect on the 27 failed playoff campaigns which have come before. Alex Ovechkin finally has his championship and he will never again be subjected to the claims of critics about the one thing he lacks. Barry Trotz finally has his championship after 19 seasons and 10 failed playoff campaigns. And most importantly, the passionate hockey fans of DC and surrounding regions – arguably the most passionate fans in North America – finally have their championship team.