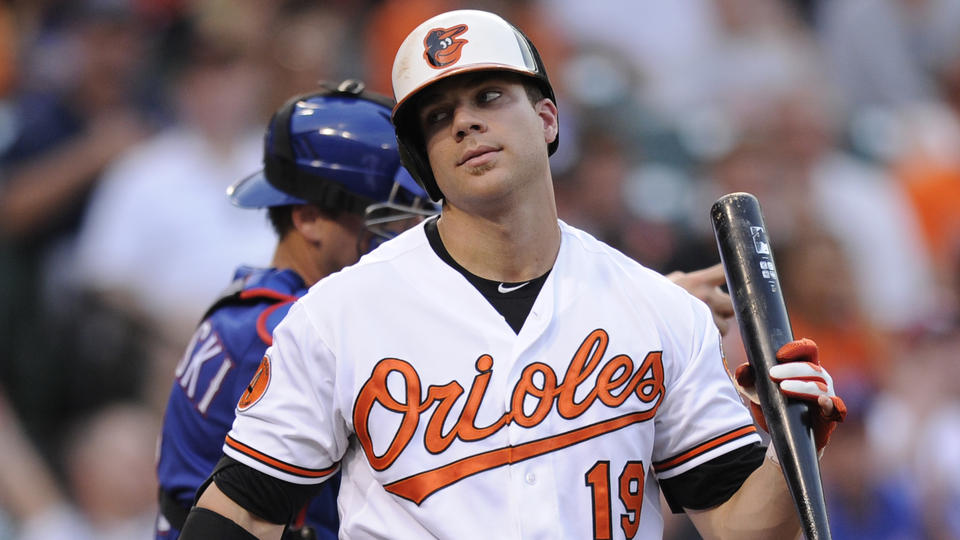 BALTIMORE – While bad contracts exist in every facet of the rat race humans have created, not many are more publicized than those in baseball.
Year after year MLB's 30 teams collectively issue out billions of dollars in contracts, securing the best talent available to hopefully bring home a championship – one which will be remembered by players, coaches, and fans alike for the rest of their lives.
The level of scrutiny applied to these contracts, and the inevitable judgement of return on investment, is unlike most others in pro sports. With 162 games a season and baseball practically being played every night for six months, the fluctuation of emotions among fans, owners, executives, and the press is unrivaled. A hero one day could be a bust the next. That is the beauty of baseball.
Entering the 2018 season there were many bad contracts in existence within the baseball world – Homer Bailey (Reds), James Shields (White Sox, formerly Padres) and Hanley Ramirez (Red Sox) to name a few. One name which wasn't yet on that list, yet certainly is now, is Chris Davis of the Baltimore Orioles.
Let's flashback to February 2018. As spring training arrived, Davis was looking to rebound from a disappointing 2017 season where he hit just .215 with 26 home runs and 61 RBI. These numbers were significantly lower than 2016, where he hit .221 with 38 home runs and 88 RBI. Sure, 2016 wasn't amazing either, however the production combined with his stellar defense at first base was passable. There in lays the problem – for three straight seasons now, the mindset of all involved in Baltimore baseball has been to hope Davis can salvage a passable season. That mindset speaks volumes, far more than any statistical spreadsheet ever will. Everyone in Baltimore knows Davis' best is behind him, despite the organization being on the hook for a ridiculous sum of money between now and the time his contract ends in 2022.
After Davis hit .262 with 47 home runs and 117 RBI in 2015, the Orioles inked him to a ridiculous 7-year, $161 million deal, with $42 million of that money being deferred. It was the largest contract in Orioles history and many at the time were shocked by owner Peter Angelos' generosity. Regarded by some as one of the stingiest owners in baseball, seeing Angelos part ways with such a large figure was unexpected, however the fan base was more than happy to see their favorite slugger wearing orange once again.
While having Davis return to Baltimore was a popular decision, and admittedly one in which the organization would have been crucified for had it not occurred, it wasn't long before the press dug a little deeper in search of the reasons behind such a large sum being agreed upon. Following this digging, it soon became a widely-held theory that the Orioles had been bidding against themselves as the contract amount skyrocketed. Well played Scott Boras if so.
Undoubtedly, between 2013 and 2015 Davis was the most feared hitter in baseball and lead the major leagues in home runs twice. Anyone who says he wasn't one of the biggest free agent targets at that time would be lying. The desire of many to secure the big left-handed hitter was unquestionable, however the value placed on his head by the Orioles was absurd. Davis was entering his twilight years and despite the obvious power, he still had one massive fatal flaw – his love of strikeouts.
While it's easy to look back in hindsight, the feeling at the time was that the Orioles paid far too much. A shorter deal, perhaps five years, at a figure closer to the $120 million mark would have been far more acceptable. Would that have been enough to secure Davis? We may never know, however I really don't suspect the market would have paid him too much more than that. Had this, or something close to the mark occurred, the Orioles would still be bitterly disappointed with their return on investment, however they'd feel far less concerned than they do right now.
A look at the difference between Davis' production in the three years pre and post signing highlights these concerns.
2013 to 2015: 447 G, .252/.347/.544, 126 HR, 327 RBI, 31.0 K%
2016 to 2018: 346 G, .206/.306/.407, 69 HR, 165 RBI, 35.3 K%
Scarily, things are getting worse – much worse.
As it currently stands, according to Fangraphs, Davis is the worst hitter in the major leagues this season with a -2.1 WAR, some 0.9 points worse than Dexter Fowler who ranks second last. His .147 average has reached historic lows and he's striking out 38.2% of the time, yet another MLB-worst.
Having explored most options and being left not knowing what to do with Davis, manager Buck Showalter gave him an eight game rest recently in hope of removing the pressure of lofty expectations and allowing Davis to work on his swing. Upon return this past weekend in Atlanta, Davis went just 2-for-12, however drove in five RBIs. In his first game back especially, where he hit his first home run in more than 90 at bats, there was reason to hold hope, and Davis told the Baltimore Sun's Peter Schmuck he felt new and improved…
"I feel I'm a completely different player and I hope that showed the last couple of games, but I understand their (fans) frustration. I know exactly what I'm capable of and what I've done in the past. I know the standard is high and I haven't been playing that well, but at some point in time, at least for me, I've got to move on and move forward and try to find a way to still have an impact on this season."
Showalter also chimed in, pointing to Davis' improved mental state.
"He's in a pretty good place mentally right now. We'd like him have some success, for his sake, statistically."
While the brief burst of positivity sounded encouraging, Davis performances ever since have been quite the opposite. Since that home run in his first game back against the Braves, he's hit safely just once, going 1-for-18 with 10 strikeouts. In this current series against the Seattle Mariners he's 0-for-6 with six strikeouts.
It's unfair to lump too much blame on Davis for the struggles being experienced by the lowly Orioles in 2018, however as the team's highest paid player and the one who is struggling the most, it's easy to see why he's been labelled the scapegoat. His struggles replicate those being seen in Birdland – a team with the worst record in the major leagues and a future that doesn't appear all that bright. Sadly, with more than $100 million still owing on Davis' contract and with Angelos having now been burnt by such a bad contract, it's hard to see the organization signing any big free agent hitters again in the foreseeable future, and that includes generational star and soon-to-be free agent Manny Machado.
The pain of Davis' contract, the worst in the major leagues, will haunt this organization for many years to come.