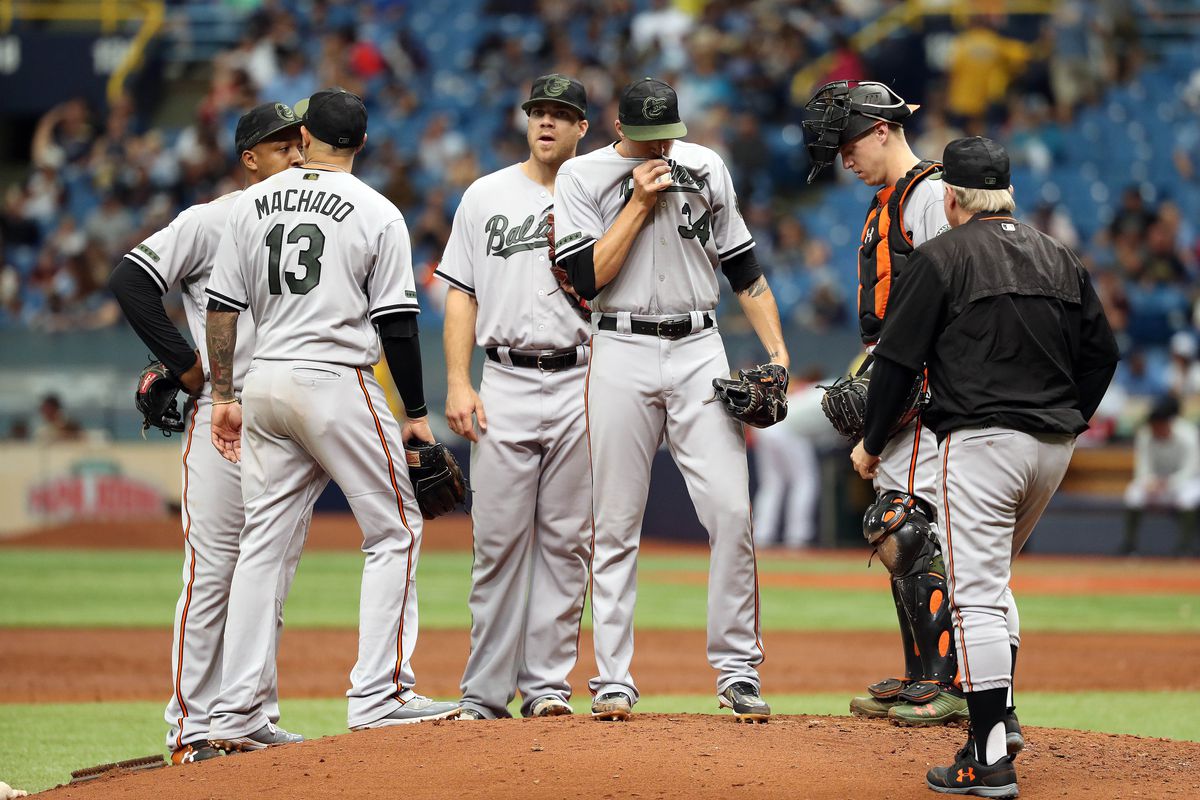 BALTIMORE – Memorial Day has long been an important date in the Major League Baseball calendar and this year, it's certainly no exception.
Not only is it important for it's time-honored tradition of paying respect to the brave men and women who died while serving in America's armed forces, yet it also serves as a point in which teams assess how they're travelling – will the team decide to be buyers or sellers as the trade deadline nears?
All the way through the Baltimore Orioles' horrendous start to the 2018 season, General Manager Dan Duquette reinforced that nothing will be decided until Memorial Day – clearly, there were hopes of turning things around.
That hasn't happened.
In fact, to put it bluntly, things have gotten worse. So much so that the Orioles now find themselves with the most losses in baseball and a season left in ruins. The team cannot reach the postseason and hopes of even salvaging a .500 season are long gone. They've been absolutely terrible, and they're currently on pace for a 50-112 season – the worst in franchise history (they went 54-107 in 1988).
With nothing left to play for in 2018, the time has come to wield the axe. There's simply no benefit in carrying a roster full of Triple-A caliber players, or 'has-beens' that are well past their prime. The fans want some accountability, which as yet we haven't seen all season. Nobody has lost their job, despite the team turning in performances which are quite frankly, embarrassing. The fans also want to see the future. For years the national media has taken a swipe at the organization's farm system every opportunity they can, however in recent years there's been some signs of life. There are some kids down at Triple-A Norfolk and Double-A Bowie that clearly possess some potential, and despite some inconsistencies it's time to see what they're capable of.
When Trey Mancini was called up in September 2016, nobody predicted he'd be a career .279 hitter more than 18 months later, with a career OPS of .801. While his record in the minor leagues was impressive, the magnitude of his breakout 2017 season was above all expectations and just goes to show that sometimes, these kids blossom when the big lights of major league ballparks shine upon them. It's time to find that next good news story.
On the pitching front, there is simply no benefit in having Chris Tillman return to the ballclub when he overcomes his back injury. Tillman is finished, as his 8.42 ERA over his 31 outings since the 2017 season commenced demonstrates. While the 30-year-old right hander had some fantastic seasons in Baltimore, there is absolutely nothing to suggest a miraculous return to the glory days is on the cards. It's time to sever ties and move on. Taking his place in the rotation is 24-year-old David Hess who has impressed in two of his first three big league starts. The youngster's 4.15 ERA through 17 1/3 innings of work is far superior to that of Tillman's, and he is thoroughly deserving of an extended run in the rotation.
Mike Wright Jr. is another arm which should have been moved on a long time ago. The 28-year-old has been given more chances than most pitchers could ever dream of since making his debut in 2015 (55 in total), only to repay those who showed trust in him with a dismal 6.02 career ERA. While Wright is capable of pitching a few scoreless innings in a blow out, in high pressure situations he continually lets his teammates down. It's time to send him packing, and give that bullpen role to Hunter Harvey, the flamethrower who finally appears to be healthy for an extended period of time. Harvey is having a reasonable year with the Baysox, working to a 4.15 ERA over 30 1/3 innings of work, and while not accustomed to a bullpen role, it would provide a smoother transition into big league baseball and one where is workload can be managed carefully. Still just 23-years-old, the right hander has been battling away refining his game and fighting to keep healthy in the minor leagues since 2013. He appears more ready than ever before to step up and is deserving of the opportunity.
Those on the offensive side of the ledger that need a swift boot out of town include Colby Rasmus and Jace Peterson, while Pedro Alvarez is also walking a thin line.
Rasums, the worst performing of the trio, is currently recovering from a hip injury sustained early in the season, however his 2-for-21 effort, with 13 strikeouts, had fans calling for his immediate departure and surely, he isn't worthy of a roster spot upon returning to full fitness. Approaching his 32nd birthday, Rasmus appears to be a spent force in the major leagues, hitting just .219 since the start of the 2016 season, despite possessing some occasional pop.
Peterson meanwhile is just 13-for-73 (.178) since arriving from New York and has struck out 21 times – often at crucial moments. While strikeouts are no longer looked upon as harshly as they were in decades prior, his lack of power makes the frequency inexcusable. A career .231 hitter who is now 28-years-old, he is running out of chances to prove he can be a reliable hitter at this level, and his fielding has also been suspect at times, with multiple errors and limited range.
Alvarez may have a few credits left up his sleeve on the back of some timely bombs, however he's just 5-for-41 (.122) in May and like Rasmus, now on the wrong side of 30. He has shown the power remains, with eight home runs on the season, however with a plethora of young talent champing at the bit for their opportunity, the time may be approaching where he is moved on in favor of the next generation.
Leading these youngsters deserving of an opportunity is outfielder Cedric Mullins who remains on an absolute tear in Bowie, hitting .315 with 12 doubles, five six home runs. The exciting prospect has speed, power, and keeps improving his production as he works his way up the minor league rungs, while his defensive prowess patrolling center field has him being compared by many to a young Adam Jones.
While never rated as highly as his fellow prospects, 25-year-old infielder Drew Dosch is another youngster performing well, hitting .290 with Norfolk and owning an impressive .805 OPS from his 124 at bats. A career .279 hitter over 526 minor league games, Dosch continues to prove himself worthy of an opportunity and adds another left handed hitting option to Showalter's line up.
Others who may get an opportunity with the big league team later in the season include left handed pitcher Keegan Akin, third baseman Ryan Mountcastle, outfielders Austin Hays and D.J. Stewart, and catcher Austin Wynns. Opportunities for these youngsters may arise in August if the Orioles, as one would expect, offload anything of value prior to the trade deadline. Leading this list are pending free agents Manny Machado, Adam Jones, Zach Britton, and Brad Brach. With most expected to find greener pastures in 2019, in particular Machado, the Orioles would be foolish not to make the moves happen and secure some further young talent in return. The time has well an truly come to cut the dead wood in order to see what the organization's kids are capable of. At 17-38, things surely wouldn't get any worse…