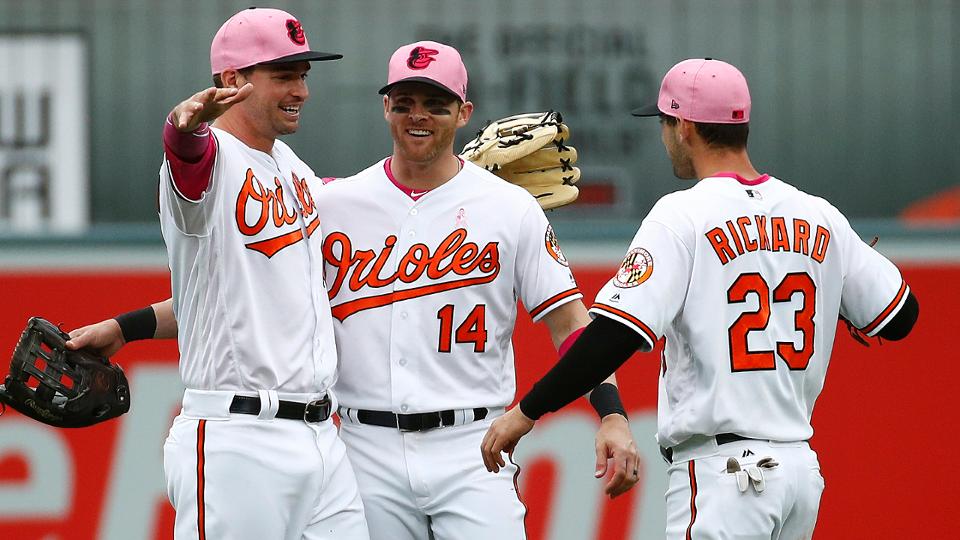 BALTIMORE – It's terribly painful, frustrating, and emotionally draining for fans when a team falls to 8-27 through the first six weeks of a new season.
Yet from there, one of the worst things it can then possibly do is to go on a win streak. Unfortunately for the Baltimore Orioles, that's exactly what has occurred this past week, winning five of its last six games on the back of an exploding offense which has scored 51 runs, including 17 against the Tampa Bay Rays in Sunday's mauling at the 'Yards.
You see, for this Orioles ballclub, being 'competitive' for the last three plus seasons has probably played a large part in the horrendous performances we've seen this season to date (current win streak excepted of course). While the team has remained relatively competitive following a 2014 season where it was a genuine contender, it has also been plagued by a roster which has undeniable flaws and one which really, was never going to dance on through to the World Series.
Entering the 2018 season, on paper the organization appeared to have compiled a pretty handy roster, aided by the offseason additions to bolster the worst rotation in baseball last year. However, and of course this is looking back in hindsight, the depth just wasn't there and this was soon exposed when Mark Trumbo, Jonathan Schoop, and Tim Beckham all found themselves on the Disabled List. Even the absence of Zach Britton, which we thought could have been covered somewhat successfully by Brad Brach, has proved to be much greater than ever imagined.
What transpired over the first five weeks of the season was nothing short of embarrassing, as guys who are barely good enough to play Triple-A ball, were called in to fill gaps within a Major League team. In the end, all they did was fill the errors column, hit somewhere close to the Mendoza Line, or concede as many runs as they did innings pitched. With the line up, infield, and pitching staff full of holes, the pressure on the rest of the pitching staff increased dramatically. No longer could their nerves be lessened by run support, spectacular defense, or confidence in the bullpen. No, now they couldn't allow a run or two (literally) and the pressure soon took its toll.
At 8-27, and having lost 16 of of their last 19 games, the Orioles' season was all but over, and all that was left to do was start the fire sale and blood some prospects. Manny Machdo was hitting over .350, Adam Jones was showing the world he still has some pop, and Zach Britton's recovery from a ruptured Achilles was progressing well. All three pending free agents possessed talent which could boost the chances of World Series success for any interested suitor, and each would secure something of value in return should they be offloaded, especially Machado. Even the terribly inconsistent Brad Brach, another pending free agent in 2019, would likely generate discussion, as we all know late-innings relievers are always in high-demand down the stretch. 
After a successful week, the Orioles now find themselves at 13-28 – still 15 1/2 games off the division lead and 12 games behind in the wildcard race. Despite the large gap, somewhat astonishingly an ever-increasing section of the fanbase suddenly has hope of a resurgence. While I fully appreciate the need for optimism, a dose of reality is also required in situations such as these and I'm afraid to say the Orioles are just too far back. They will not reach the postseason in 2018 and even if a wildcard miracle did occur, they would not be able to compete with the might of the New York Yankees or Houston Astros, the two best teams in baseball.
To provide more context to the situation, at this current rate 98 wins will be required to snag a wildcard in 2018 – yes, 98. That's how far ahead of the pack the top contenders already are. While this number may well drop to a figure in the low-to-mid 90s, this is not 2017 all over again where just 85 wins was enough to punch a postseason berth. For the Orioles to even reach 94 wins this season they would need to go 81-40 from here on in (.669). That's simply not going to happen.
As such, despite the recent wins, which I must also add were against two very mediocre teams in the Tampa Bay Rays and Kansas City Royals, the plan should not have changed and the fire sale must begin sooner rather than later. The team must also rid itself of as much dead wood as possible, most notably Chris Tillman and Mike Wright. Selling off these soon-to-be free agents and removing the dead wood will pave the way for the organization's most talented prospects, including David Hess, Tanner Scott, Austin Hays, and Cedric Mullins among others 
After scratching and clawing since 2014 to remain competitive, the time has come to look towards the future and initiate a rebuild. The recent journey has been fun, and if we want to see that again sometime in the next decade, the decisions made over the coming weeks need to be done so with absolute clarity, a real sense of purpose, and a ferocious intent.