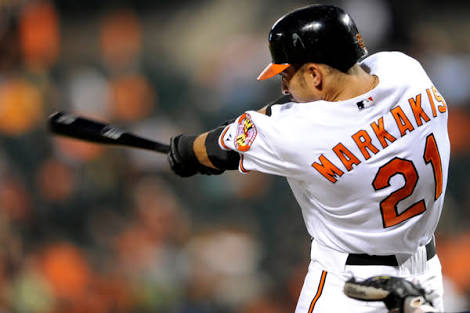 As the Baltimore Orioles slump to the worst record in the American League, a familiar face and much-loved figure from the Orioles' last period of significant struggle, Nick Markakis, is experiencing completely different fortunes with the National League East leading Atlanta Braves.
The Braves, who are without doubt one of the most exciting young teams in all of baseball, are 19-11 and the 34-year-old veteran right fielder is hitting .336 with eight doubles, five home runs, and 23 RBI. In his 13th major league season and last of his current four-year contract, the left-handed hitter is showing no signs of slowing down despite injury concerns being a hotly debated subject during the 2014 offseason.
After a memorable American League East division-winning 2014 season in Baltimore, Markakis was quite vocal in his desire to re-sign with the Orioles and remain in the city he had grown to love throughout his entire major league career. After nine seasons, Baltimore had become a second home for the New York native, and in 2008 he and his family purchased a property in Monkton, an affluent community just a short 30 minute drive down the I-83. In addition to his on-field success with the team, his charitable work off-field also enhanced his high standing among fans. The Right Side Foundation, started by Nick and his wife Christina in May 2009, helps disadvantaged, sick, lonely, or grieving children throughout the state of Maryland and frequently draws much praise from leaders within the community who see first hand how much of a difference the Markakis family's efforts make.
Despite his strong desire to remain though, the front office had other ideas.
Following the end of the 2014 playoff run at the hands of the Kansas City Royals, Markakis and the Orioles looked set to sign a four-year, $40 million deal in early November, however negotiations suddenly stalled. While never admitted by the Orioles front office, it was a widely-held belief that the organization was concerned by an MRI on his neck which showed a bulging disk. This is despite Markakis openly stating his neck wasn't causing him discomfort, and that fact that he'd played 160 and 155 games in 2013 and 2014 respectively.
Ultimately a deal between the two parties was not forthcoming and just a few weeks later on December 3, Markakis agreed to a four-year, $44 million contract with the Atlanta Braves, much to the frustration of Orioles fans. To further rub salt into the wound, the ever-classy Markakis took out a two-page advert in the Baltimore Sun, thanking fans, the city, and the organization for his nine seasons with the club. Players of his caliber both on and off the field don't come around often, and the Orioles had just let one slip away.
Speaking on the event in early 2015, the typically quiet Markakis surprised many and didn't hold back:

"Don't believe a word they say. It was all because of my neck. They can say what they want to make them look good. It's all B.S."
"It's a weird feeling. It's different. You don't realize until you go through it. And I always thought I'd be coming back as an Oriole. But I've been through it all now and the business side I understand."
More than three years have since passed and overall, the Orioles have enjoyed more success than the Braves, winning 81, 89, and 75 games respectively and reaching the postseason again in 2016. The rebuilding Braves meanwhile won just 67, 68, and 72 games respectively between 2015 and 2017.
When comparing the numbers between Markakis and the Orioles' various right fielders used since he left though, it makes for truly fascinating reading.
Nick Markakis (Offensive), 2015 to Now
504 games (of 516)

.283 batting average (545-for-1923)

236 runs scored

123 doubles

2 triples

29 home runs

241 RBI

229 walks
Orioles RF (Offensive), 2015 to Now
.266 batting average (517-for-1945)

264 runs scored

96 doubles

6 triples

83 home runs

238 RBI

149 walks
As the numbers indicate, Markakis' offensive value is superior in most categories to what has been achieved by Orioles' right fielders combined since 2015. The exceptions are home runs and runs scored, however one must also keep in mind that Markakis has played on a significantly weaker team where both RBI and run scoring opportunities have been less frequent. Also noteworthy is Markakis' much higher on-base percentage which stems from drawing 80 more walks.
Defensively, the Orioles have never truly settled on a regular right fielder since Markakis left and in total, have tried 24 different options – most of which with minimal success. Now mostly forgotten, this has included Gerardo Parra, Alejandro De Aza, Chris Davis, Mark Trumbo, Joey Rickard, Nolan Reimold, Seth Smith, and Anthony Santander among others.
Nick Markakis (Defensive), 2015 to Now
6 errors

21 assists

-1.9 defensive WAR
Orioles RF (Defensive), 2015 to Now
20 errors

44 assists

-11.3 defensive WAR
Yet again the numbers tell a clear story of Markakis' higher value and superior performance since 2015, especially in that defensive WAR category which must be particularly alarming for anyone within the Orioles organization.
While it's easy to sit back and criticize the Orioles' front office for the numerous lost opportunities in recent years which has contributed to the misery seen in 2018 (i.e. Nelson Cruz, Andrew Miller, etc.), the stability, consistency, and reliability of what Nick Markakis offered the ballclub has undoubtedly been missed. Further, his leadership on field, as well as he and his family's charitable work off it, has also been a big loss to the ballclub and city in general.
With the Braves flying and clearly valuing Markakis' consistent performance both in right field and at the plate, one would expect them not to make the same mistake the Orioles did by letting this underrated star walk at season's end.