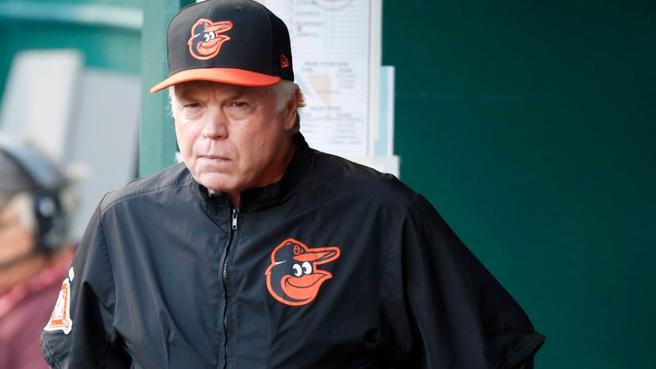 There's a famous saying in baseball, that pennants can't be won in April, yet they can most certainly be lost, and after just four weeks of the 2018 season an alarming number of teams are doing their best to prove this old adage true.
The Chicago White Sox, Cincinnati Reds, Miami Marlins, and Kansas City Royals have all made horrific starts this season, however none of which are as far off the pace as the slumping Baltimore Orioles (6-18 record) who will wake up Thursday morning a staggering 12.5 games behind the AL East leading Boston Red Sox.
Despite 138 games still remaining, this gap will not be closed. Further, with three teams in the American League not leading their division and still possessing records over .600, the two wildcards appear all but out of reach too. Quite frankly, from a playoff aspiration perspective, the season is already over.
While the 6-18 record to start the season is concerning, the 4-19 record to close out 2017 must also not be forgotten. Combining the two, the Orioles have lost 37 of their last 47 games – a feat no team in baseball comes even remotely close to 'achieving'.
During this stretch we've seen it all, all too often. The starting pitching is far too inconsistent, even despite the exciting results Dylan Bundy is achieving. On the rare occasion a starter can produce the goods, they're seldom backed by an embarrassingly one-dimensional offense which truly does live and die by the long ball. The bullpen and defense, which between 2012 and 2016 were two massive strengths of this team, have capitulated. Once reliable relievers now operate on a Jekyll and Hyde type basis, while the defense has more holes in it that a slice of Swiss cheese.
The fans are no longer attending in masses, with 2018 on pace to be the worst attended season in Camden Yards' history – by far.
The farm, while showing some signs of improvement in recent years, is still one of the worst ranked in baseball and there's only a handful of prospects on the horizon who may be capable of adding some improvement to the big league team in coming years.
All in all, the organization is in a pretty chaotic state and sadly – for the passionate, devoted, success-starved fans – the dark ages of pre-2012 have returned with venom.
Despite such an abundance of failures, mismanagement, and missed opportunities, it seems nobody is being held accountable in Baltimore, and the mainstream media – which we know has had press passes stripped off them in years prior – don't appear to be brave enough to ask the tough questions.
Why isn't General Manager Dan Duquette being quizzed over so many failed pitching signings and acquisitions in recent years? (i.e. Ubaldo Jimenez, Yovanni Gallardo, Jeremy Hellickson, Wade Miley, etc.)
Why hasn't anyone probed deeper into the 'ones that got away' and continue to perform well elsewhere? (i.e. Nelson Cruz, Nick Markakis, Gerardo Parra, Andrew Miller, etc.)
Why isn't Pitching Coach Roger McDowell being quizzed about the alarming decline in performance from Chris Tillman since the start of last year, or the continued inconsistency of Kevin Gausman and almost the entire bullpen?
Why isn't Scott Coolbaugh being quizzed over the massive decline in production from Chris Davis and Mark Trumbo in recent years, or his inability to turn their form around?
Why have the likes of Mike Wright, Tyler Wilson, TJ McFarland, Craig Gentry, and others continually received more opportunities in recent years than any other Major League ballclub would allow?
Why was the decision made to rush back Alex Cobb when clearly he is under-prepared and now suffering a complete lack of confidence?
Why have so many players with obvious potential gone on to succeed elsewhere after their time in Baltimore has come to an end? (i.e. Jake Arrieta, Zach Davies, Parker Bridwell, etc.)
Why haven't/didn't/aren't first round draft picks of recent years developed/developing as expected? (i.e. Josh Hart 2013, D.J. Stewart 2015, Cody Sedlock 2016)
Why weren't extension talks held with Adam Jones, Jonathan Schoop, or Zach Britton over the winter months?
Why wasn't Manny Machado traded last June when the time was right? Or at the very least, when will serious discussions start occurring with other clubs this season, before it's too late and he walks as a free agent after the season concludes?
The fan base is beyond frustrated with the results and they fear what the future holds. Baltimoreans love their baseball team and grew to love the return to winning ways in 2012-2016. They don't want to experience another run of 14 consecutive losing seasons.
The fans want answers and they're not getting them. They want to see someone held accountable for this current mess, and they want more transparency in knowing what the plans are going forward. If a rebuild is on the cards, they want to know. They want to understand. They want to be involved and want to go along for the ride.
Until these tough questions are asked, key decisions made, and the coaching staff and front office is held to account, the frustration will continue and the stands will remain empty.