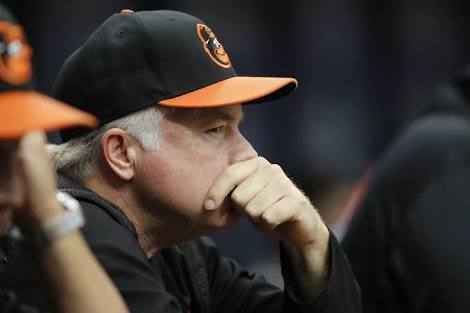 Tonight's 4-2 loss to Detroit was once again rather ugly – we're all well aware of that – however now is not the time to give up on a team with the hardest schedule in all of baseball through mid-May.
The way in which the Orioles have stumbled to a 5-12 record has been full of frustration, and I am not suggesting that this team has not been terrible so far, however it is not yet time to panic.
Let's look at the positives both tonight and thus far through the first 17 games:
Trey Mancini looks like his break out rookie year in 2017 was not a fluke and has continued to put on a clinic at the plate, hitting .299 with two home runs and five RBI.
Pedro Alvarez is starting to look like the beast we remember in Pittsburgh, hitting .320 with two home runs and seven RBI.
Manny Machado is hitting .309 with three home runs and nine RBI, while also shifting across to short stop relatively easily.
Andrew Cashner has steadied himself after a tough start and through four games now, is working to a solid 3.00 ERA.
Dylan Bundy has been lights out against some pretty stiff competition. After four starts, his 1.40 ERA, 1.09 WHIP, and 31 strikeouts in 25 2/3 innings shows just how dominant he's been.
Brach Brach has steadied after a rough start to the season, working to a 2.35 ERA, while Richard Bleier has been dominant in relief, allowing just one run in 12 innings of work.
Craig Gentry has added more value to this team than most expected. While his .240/.296/.240 slash doesn't look too great on paper, his defense and speed on the base paths has added a real spark.
There's some stuff there to work with going forward.
The Orioles need Alex Cobb and Kevin Gausman to return to some sort of form in which they're capable of, and they need some production with runners in scoring position. In fact, they need a far better overall approach at the plate as it seems like almost every at bat they are down in the count. They also need to tidy up the defense which has slipped markedly.
The team has talent however it is playing baseball that is very different from the Buck Showalter-coached Oriole teams we've grown to appreciate since 2012. Despite the poor start, I still believe the Orioles have the potential to break out any day now and any talk of Dan Duquette cleaning out the house is premature.